Myers Memorial United Methodist Church
Join us for Worship! Live on Facebook and YouTube on Sundays at 9am.
Due to our county being identified as a critical county for the virus spread, we will not hold in-person worship until this warning has been reduced.
The live feed can be found on
Facebook
and on
YouTube
. Pre-roll begins at 8:55am; log in early to chat with some of your friends in the comments while announcements scroll on the screen.
Sign our
Digital Connection Card
to let us know you worship with us, share your contact information and make private prayer requests.
Make your weekly tithes or offerings by sending a check to 301 S. New Hope Road, Gastonia, NC 28054 or
click here
to give online. If you miss the live broadcast, you can find previous services on our
YouTube Channel
.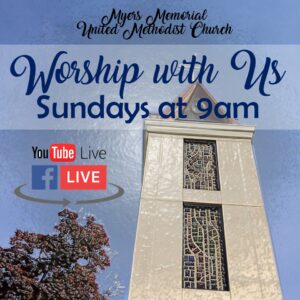 The church is open for ministry! In fact, the church never closed; we are living into our mission. Our calendar is filled with ministry groups who have scheduled to meet in person, on campus, off campus, and online. Drive by worship opportunities are happening. Community engagement is encouraged. The staff looks forward to the day when our doors will swing wide open to visitors; until then we want to connect with you.
All donations are asked to be left in the black bins on the front porch of the church office. Staff members will regularly check the bins and bring the items inside. If you need help carrying items from your car, please call the office and a staff member will be glad to assist you and to the best of our ability we will ensure a cart is available outside for your use.
Please know that Heather is working at her desk and will greet you through the glass.
Please call the office (704-864-3222) if you need to have a more lengthy conversation.