Serving At Myers Memorial UMC
"Taking an active stance in society is nothing new for followers of John Wesley. He set the example for us to combine personal and social piety. Ever since predecessor churches to United Methodism flourished in the United States, we have been known as a denomination involved with people's lives, with political and social struggles, having local to international mission implications. Such involvement is an expression of the personal change we experience in our baptism and conversion.
The United Methodist Church believes God's love for the world is an active and engaged love, a love seeking justice and liberty. We cannot just be observers. So we care enough about people's lives to risk interpreting God's love, to take a stand, to call each of us into a response, no matter how controversial or complex. The church helps us think and act out a faith perspective, not just responding to all the other 'mind-makers-up' that exist in our society."
Excerpt from The Book of Resolutions of The United Methodist Church 2016.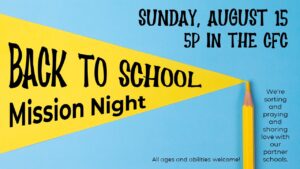 1″ three-ring binders
5 Subject Wire Bound Notebooks
Composition Books
Pencils
Glue Sticks
Multi Colored Highlighters
Colored Pencils
Pens (blue & black)
Over the ear Headphones
Ear Buds
Baggies (Quart, Sandwich, Gallon sizes)
Bleach Wipes
Lysol Spray
Teacher Supplies
Post It Notes
Dry Erase Markers
Please have all supplies at the church by August 15 for sorting and distribution prior to the start of school!
Ongoing Collections for CAM
Crisis Assistance Ministry
is a cooperative ministry of the greater Gastonia faith community. By providing direct emergency assistance through collaboration with other community resources, CAM assists those facing financial crisis or struggling with the burden of poverty.
MMUMC has an ongoing collection for CAM and highlights the most pressing needs through email and in church announcements. CAM always welcomes donations of non-perishable items, household cleaning items and personal health items.
Bonus Blessing Bags
From time to time we provide Bonus Bags for local families when school is out.
Here's how you can help:
1~Shop and donate food items
2~Donate money to purchase perishable items
3~Pack Blessing Bags
4~Deliver Blessing Bags
Please contact
Sally Drennan
(704-813-6752) with any questions and offers to help make this possible!
Salt & Pepper
Coffee & Filters
Tea Bags
Sugar
Shelf Stable Milk
Vegetable Oils
Butter Buds
Large boxes/bags of Cereal
Large boxes of Granola Bars
Canned Tuna/Chicken & Crackers
Tortillas
Loaf Bread
Salsa
Black Beans
Peanut Butter & Jelly
Canned Veggies/Fruit
Mac & Cheese
Can Opener
Mission: Possible
The goal of Mission Possible is to help those in need of assistance with making construction repairs or replacement which will improve their lives.
Applications for assistance are reviewed by the committee and upon approval, a date is set for a work team to perform the needed tasks. All are invited to participate in Mission: Possible work days no matter their construction experience or skill!
Pantry in the Patch
high protein, individually wrapped food items, and water.
Suggested items: Beef Jerky, Peanut Butter cups or crackers. Pop-top or tear open meats (chicken, tuna).