Serving At Myers Memorial UMC
"Taking an active stance in society is nothing new for followers of John Wesley. He set the example for us to combine personal and social piety. Ever since predecessor churches to United Methodism flourished in the United States, we have been known as a denomination involved with people's lives, with political and social struggles, having local to international mission implications. Such involvement is an expression of the personal change we experience in our baptism and conversion.
The United Methodist Church believes God's love for the world is an active and engaged love, a love seeking justice and liberty. We cannot just be observers. So we care enough about people's lives to risk interpreting God's love, to take a stand, to call each of us into a response, no matter how controversial or complex. The church helps us think and act out a faith perspective, not just responding to all the other 'mind-makers-up' that exist in our society."
Excerpt from The Book of Resolutions of The United Methodist Church 2016.
January is the coldest month of the year in our area. It's also the time when our homeless neighbors are the most vulnerable. There is a community effort to locate and assess the needs of the homeless in Gaston County so that we can meet the needs in a holistic and helpful way. You are invited to make a difference in the life of the homeless in Gaston County through a variety of activities this January.
Wednesdays in January 6p to 7p, we will gather in the Youth Lounge with guest speakers and hands on activities that will help us understand the homeless in Gaston County. This will be for children, youth and adults.
Warm Up Sunday On January 12th in an effort to warm up our neighbors we encourage you to bring warm socks, gloves and hats for people of all ages and sizes. We will bless these in worship and then on Wed. January 15th we'll assemble them into care packages.
Point in Time Study January 29, 4p to 10p. Volunteers will go out into the community, accompanied by police officers who know our community the best, to gather information and share care packages with those in shelters and outside
See more information below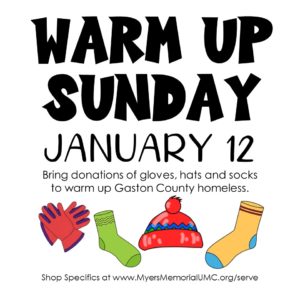 We are collecting Socks, Gloves and Hats to help keep our homeless neighbors warm this winter! All items will be delivered on January 29th as part of the Point in Time Count throughout Gaston County.
Shop Online to have Hats, Gloves and Socks sent to Myers for our Warm up Sunday, January 12.
Want to shop a larger list? Visit the Hope Youth Network
Shopping List
~ all items can be sent to their organization and they will be utilized for the Point in Time Count as well as future needs of Gaston County's Homeless.
When we see someone begging or sleeping beneath the shrubs, we're often triggered to do something. But what to do? Do we call the police? Do we give them cash? Do we call Gateway? So often we know the issue is larger and more involved than what we can see. So what do we do? This January, we are working hard to bring you a variety of opportunities to meet the immediate needs as well as learn more about the big picture and how you can help make systemic change for those experiencing homelessness in Gaston County. You are encouraged to do something this January. Buy warm gloves, hats and socks, come on Wednesday nights to learn more and do more. Volunteer with the Point in Time count and see for yourself where the homeless live and offering them warm clothing and basic hygiene items, offering them hope.
Point in time (PIT) count is a count of sheltered and unsheltered people experiencing homelessness on a single night in January. HUD (Housing and Urban Development) requires that the Continuum of Care conduct an annual count of people experiencing homelessness. The Gaston Lincoln Cleveland Continuum of Care (CoC) is a regional tri-county collaboration of local government, nonprofit and community organizations designed to promote community-wide commitment to identify and address issues related to homelessness. The fundamental mission is to aid homeless individuals and families by providing access to available services and resources that lead to long-term permeant housing and self-sufficiency.