Serving At Myers Memorial UMC
"Taking an active stance in society is nothing new for followers of John Wesley. He set the example for us to combine personal and social piety. Ever since predecessor churches to United Methodism flourished in the United States, we have been known as a denomination involved with people's lives, with political and social struggles, having local to international mission implications. Such involvement is an expression of the personal change we experience in our baptism and conversion.
The United Methodist Church believes God's love for the world is an active and engaged love, a love seeking justice and liberty. We cannot just be observers. So we care enough about people's lives to risk interpreting God's love, to take a stand, to call each of us into a response, no matter how controversial or complex. The church helps us think and act out a faith perspective, not just responding to all the other 'mind-makers-up' that exist in our society."
Excerpt from The Book of Resolutions of The United Methodist Church 2016.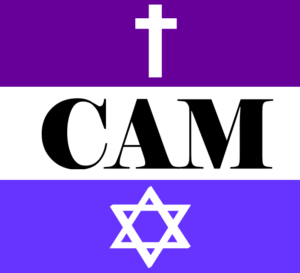 Ongoing Collections for CAM
Crisis Assistance Ministry
is a cooperative ministry of the greater Gastonia faith community. By providing direct emergency assistance through collaboration with other community resources, CAM assists those facing financial crisis or struggling with the burden of poverty.
MMUMC has an ongoing collection for CAM and highlights the most pressing needs through email and in church announcements. CAM always welcomes donations of non-perishable items, household cleaning items and personal health items.
Blessing Bags
In response to the January focus on the homeless in Gastonia, members of Myers seek to respond by empowering each of us to share a blessing. We will be collecting items for Blessing Bags, ziploc bags filled with a few basic necessities such as water, protein snacks, cleaning wipes, lotion, chapstick and more.
These bags cost just $5 each for all the supplies! When we assemble them, you are invited to take one with you to share wherever you may meet someone with need for a blessing.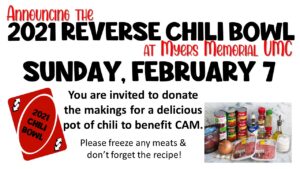 Our annual Chili Bowl will be a little backwards this year but we'll still be enjoying the festivities and making a contribution to CAM! This year we will be collecting all the makings for a delicious pot of chili and the recipe! The idea is for you to take a favorite (or generic) chili recipe, purchase all the ingredients – down to the spices, hot peppers and cloves of garlic – but don't cook it! Freeze the meat, then bring all the ingredients to church before Super Bowl Sunday (February 7). We'll donate the complete makings for multiple pots of chili to Crisis Assistance Ministry (yes, they welcome fresh vegetables and meats!). On February 7th we'll be gathering for a Drive-In Communion Service at 11am. You can deliver your items that day or make a financial contribution to the chili pot!