Serving At Myers Memorial UMC
"Taking an active stance in society is nothing new for followers of John Wesley. He set the example for us to combine personal and social piety. Ever since predecessor churches to United Methodism flourished in the United States, we have been known as a denomination involved with people's lives, with political and social struggles, having local to international mission implications. Such involvement is an expression of the personal change we experience in our baptism and conversion.
The United Methodist Church believes God's love for the world is an active and engaged love, a love seeking justice and liberty. We cannot just be observers. So we care enough about people's lives to risk interpreting God's love, to take a stand, to call each of us into a response, no matter how controversial or complex. The church helps us think and act out a faith perspective, not just responding to all the other 'mind-makers-up' that exist in our society."
Excerpt from The Book of Resolutions of The United Methodist Church 2016.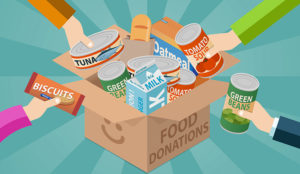 On Thursday, April 2, families with children and youth will be stopping by Myers for a drive through pick up of their weekend backpack food. We want to bless these families with an extra bag of love from the people of Myers.
OUR GOAL IS 40 BAGS by WEDNESDAY!!
FILL A BAG for the Families!
Please include one thing from each line
-Box of Cereal or Breakfast Bars
-Box of Instant Oatmeal/Grits
-Jar of Spaghetti sauce
-Box of Pasta
-Bag of Rice or Instant Rice
-Jar of Peanut Butter
-Box of Crackers (Ritz, Saltines, Graham)
-Roll of Toilet Paper
-Roll of Paper Towels or package of reusable cloths
-Any type of cleaning supply (Handsoap, Lysol)
OUR GOAL IS 40 BAGS by WEDNESDAY!!
Fill a bag, drop it at the church between Sunday and Wednesday morning.
Large bins will be on the porch at the office door and volunteers will bring it in each day.
Can't do it this time? We'll be doing this again on April 30th and will need more bags then!
Ongoing Collections for CAM
Crisis Assistance Ministry
is a cooperative ministry of the greater Gastonia faith community. By providing direct emergency assistance through collaboration with other community resources, CAM assists those facing financial crisis or struggling with the burden of poverty.
MMUMC has an ongoing collection for CAM and highlights the most pressing needs through email and in church announcements. CAM always welcomes donations of non-perishable items, household cleaning items and personal health items.
Blessing Bags
In response to the January focus on the homeless in Gastonia, members of Myers seek to respond by empowering each of us to share a blessing. Throughout April, we will be collecting items for Blessing Bags, ziploc bags filled with a few basic necessities such as water, protein snacks, cleaning wipes, lotion, chapstick and more.
These bags cost just $5 each for all the supplies! When we assemble them, you are invited to take one with you to share wherever you may meet someone with need for a blessing.