Serving At Myers Memorial UMC
"Taking an active stance in society is nothing new for followers of John Wesley. He set the example for us to combine personal and social piety. Ever since predecessor churches to United Methodism flourished in the United States, we have been known as a denomination involved with people's lives, with political and social struggles, having local to international mission implications. Such involvement is an expression of the personal change we experience in our baptism and conversion.
The United Methodist Church believes God's love for the world is an active and engaged love, a love seeking justice and liberty. We cannot just be observers. So we care enough about people's lives to risk interpreting God's love, to take a stand, to call each of us into a response, no matter how controversial or complex. The church helps us think and act out a faith perspective, not just responding to all the other 'mind-makers-up' that exist in our society."
Excerpt from The Book of Resolutions of The United Methodist Church 2016.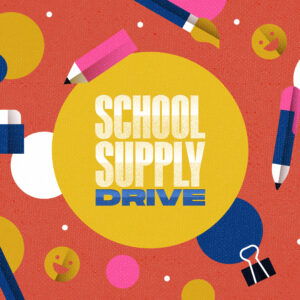 It's that time!
School will soon be back in session! With all the newness of that this year brings, let's support our schools the best we can! The easiest way is to start with meeting the basic needs of the students. We have reached out to our partner schools, Sherwood Elementary, Grier Middle and Warlick Academy, to ask their greatest needs. We'll certainly be adding to these lists but wanted you to be able to start shopping.
Click here for our Amazon Shopping List
Want to purchase masks?
Old Navy
has great reviews for children's masks! (no promotional benefits, just what we've heard!)
Sherwood Elementary Requests
Binder Pencil Pouches with Real Zippers (not plastic)
Glue Sticks
Pencils
Tissues
Sanitizing Wipes
Our Shopping List also includes many items that can be used by all schools.
Warlick Academy Requests
Pencils
Sanitizing Wipes
Hand Sanitizer
Gallon and Quart Baggies
Pens
Markers
Grier Middle School
100 page Marble style composition books
5 subject spiral notebooks
Pencils
Pencil Pouches
Colored Pencils
Plastic Pocket Folders
Loose Leaf Paper
Highlighters
2″ three-ring binders
1 set of dividers
Blue & Black Pens
Headphones (optional)
Ongoing Collections for CAM
Crisis Assistance Ministry
is a cooperative ministry of the greater Gastonia faith community. By providing direct emergency assistance through collaboration with other community resources, CAM assists those facing financial crisis or struggling with the burden of poverty.
MMUMC has an ongoing collection for CAM and highlights the most pressing needs through email and in church announcements. CAM always welcomes donations of non-perishable items, household cleaning items and personal health items.
Blessing Bags
In response to the January focus on the homeless in Gastonia, members of Myers seek to respond by empowering each of us to share a blessing. We will be collecting items for Blessing Bags, ziploc bags filled with a few basic necessities such as water, protein snacks, cleaning wipes, lotion, chapstick and more.
These bags cost just $5 each for all the supplies! When we assemble them, you are invited to take one with you to share wherever you may meet someone with need for a blessing.