For Donations, Giving Inquires or Statements,
Please Contact Amelia Bumgarner
finance@myersmemorialumc.com
If you set up automatic giving through Vanco, please revisit your settings for 2024.
Jesus illustrated giving every day of his life and we as United Methodist are called to mirror that behavior. The gift of giving is the deep commitment to provide whatever resources are needed to support God's will and plan.
One of the unique and defining factors of the United Methodist Church is that we are Connectional. All of us giving together – Connectional giving – fuels our ministry and enables us to share the concerns of many people. This idea is grounded in our need to give in order to be spiritually healthy, complete children of God. The UMC giving structure ensures the generosity we display blesses as many people as possible in sustainable, strategic ways.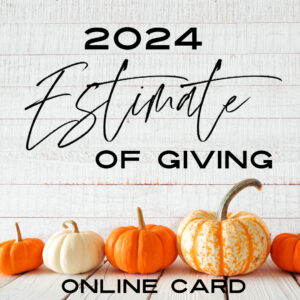 Generosity Changes You
Your gifts go further than you can see
They support our staff in their ministry
The gas and electric are part of the sum
But that's not so important in the long run
Your faithful gift for this next year
Will give you and everyone it touches much cheer.
Generosity Changes You
The Finance and Stewardship has been blessed to witness the abundant and faithful giving of our congregation this past year and it's our honor to guard your donations, making safe investments for the long term. We do this all through prayer and meaningful discussion. Your generous giving at Myers Memorial UMC has changed our community, changed our hearts, supported our staff and members and funded our practical needs.
During the month of November, you are invited to make a financial commitment for 2024 ~ your tithe, your offering, your pledge. Estimate of giving cards are mailed to current givers and members the first week of November. Cards are also available in the Narthex and church office. You are invited to bring your estimate of giving card to the communion rail during the last hymn of worship on one of the first three weeks of November, offering your gifts to God and to Myers Memorial UMC.
You may also return your estimate of giving card via the self addressed envelope sent to your home or
click here
to complete the online giving form. Your commitment is between you and God. Your pledge will allow the Finance & Stewardship Committee to make financial plans for 2024. If you have moved your membership to another congregation and are generously giving there, please notify the church office so we may update our records.