Worship at Myers Memorial UMC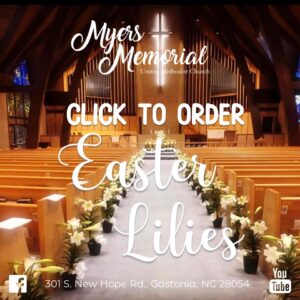 Order Lilies for Easter Sunday
You are invited to decorate the sanctuary with beautiful lilies on Easter Sunday. The cost is $15 per lily. The flower pot base will be wrapped, including a bow, and delivered to the church. Lilies can be given in honor or in memory of a loved one and acknowledgements will be printed as well as shared on the sanctuary screens. Online orders and payments are accepted, checks may be written to Myers or paid online at www.MyersMemorialUMC.org/give.
The online order form can be found clicking the image to the left or you may call the church office, 704-864-3222.

We're continuing through The Bible Year and enjoying all that we're reading! We invite you to join us at any time! Just pick up the Bible and read! To stay Current, please click "The Bible Year" page and you can find where we are currently.
The Jesus Story
October 30: Matthew 5:17-58
November 6: Matthew 23:1-36 ~ All Saints Sunday
November 13: Mark 1:16-20
November 20: Mark 9:14-29
Did You Know? Advent 2022
November 27: Luke 1:14-30
December 4: Luke 15:1-32
December 11: John 1:1-18
December 18: John 15:1-17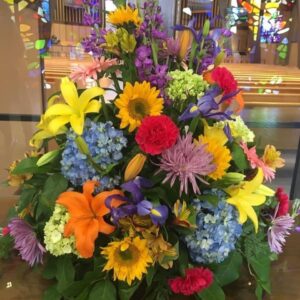 Beautiful flowers adorn the sanctuary each Sunday. If you wish to purchase flowers in honor or in memory of a loved one or special occasion, please use the link above or contact Heather in the church office. The cost of one arrangement is $60 (as of 8/2 due to rise in costs) for a basic arrangement. If you wish to make a special arrangement, please contact Heather at least two weeks in advance.
Should there be multiple persons wishing to sponsor flowers on the same day, there are several options. There is space in the sanctuary for two arrangements. Unless otherwise noted, there will be one arrangement provided each Sunday. Should more there be a need or a desire for more than two sponsors, you may arrange for an additional floral arrangement to be placed in the Narthex at the back of the church.
March 2022 Masking Update : Dr. Allison Evanoff
Affirmed by Church Council
We encourage you to make the best decision for yourself and your loved ones. We can show our love for others by being supportive and not critical of folks who mask up indoors and supportive and not critical of folks who do not mask indoors.
Beginning Sunday, March 6, we will be encouraging everyone to make the best decision for themselves. For those who prefer to sit in an area where masking is required, we will maintain a few rows towards the back of the sanctuary and we ask that anyone not masking refrain from sitting in this area. Thank you all or your patience and commitment to love one another.