Join us for Worship!
Live in-person and on Facebook and YouTube on Sundays at 9am and 11a!
Safety remains our #1 priority as we transition to more in-person gatherings for small groups and worship. We will continue to be live on FB and YouTube for worship each Sunday at 9a and 11a.
Sunday Morning Nursery offered for children ages 0-3 years.
For those not able to join us in the Sanctuary, we continue our livestream on Facebook and YouTube each week, at each service. We will go live on
Facebook
and on
YouTube
at 8:55am and 10:55a each week. Log in early to chat with some of your friends in the comments while announcements scroll on the screen.
All worshippers are invited to sign our
Digital Connection Card
to let us know you worship with us, share your contact information and make public & private prayer requests.
Make your weekly tithes or offerings by sending a check to 301 S. New Hope Road, Gastonia, NC 28054 or
click here
to give online. If you miss the live broadcast, you can easily find all our services on our
YouTube Channel
.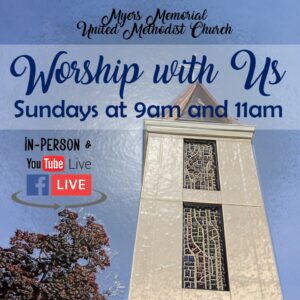 Worship with Us
Online
Sundays at 9a and 11a
In-Person
Sundays at 9a and 11a
Frequently Asked Questions about Worship
Can we use our hymnals? Absolutely! Many are back in the pews and if you have one at home, please bring it next time you come.
Are the monitors here to stay? Yes! Our amazing congregation funded this state of the art technology upgrade and it has already enhanced and expanded our worship for both in person and online attendees. We hope you appreciate the visual worship enhancement. There is so much we can do with this technology, it's a matter of learning what works best for us!
Will there always be 2 services? Technology failures at the beginning of the pandemic allowed us to discover a new time for worship! The 9am time has allowed for so many more people to join us, we have worshippers in ten states at 9am on a Sunday morning! The 9am service is designed to be more informal in nature (no robes, leadership from the altar area, and the opportunity for the praise band to play occasionally). Many worshipers during the pandemic joined us at this time, so we are committed to continue this service. The 11am service will be more familiar to Myers Memorial UMC's and contains elements worshippers have appreciated for years (robes, more organ music, choir anthems). The sermon and hymns will be consistent at each service. All are welcome in person or online at either or both services, dress as you wish, pajamas, casual or Sunday best, it's a great joy to be able to worship together in so many ways!
Where is the bulletin? There is an order of worship available in the narthex for you to use on Sunday mornings. The slides contain all the words! The order of worship includes the words to the anthems and special music. Worship leadership utilizes this as well so you'll find behind the scene service notes too.
What about masks? Masks are always welcome. Unvaccinated persons are strongly encouraged to continue wearing their mask to worship. Vaccinated persons are invited to do whatever makes them comfortable. A section remains for those who wish to mask and keep social distance.
Where are the pew cushions? Sadly they had to be disposed of. We had the time to take stock of their condition and years of candy and gum and other sticky things…yuck! The Worship Committee & Trustees recognized their poor condition and felt it was time for them to go. The Trustees will receive a recommendation from the worship committee about a future replacement. You are more than welcome to bring cushions or pillow to worship. Would you be interested in a Myers Memorial seat cushion? There is talk about offering these for purchase to support the mission and ministry of the church!
Will it ever feel normal again? Change is hard and so much has changed in our world. We are reminded that the only thing in life that is unchanging in our God. Hopefully worshipping alongside your brothers and sisters lifts your spirit as we navigate the changes together.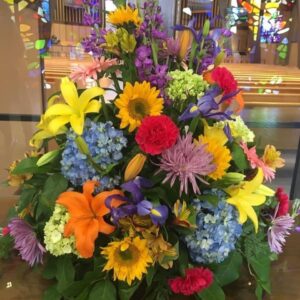 Flowers for Worship
You are invited to sponsor the flowers for worship each Sunday!
Flowers for worship can be provided in memory or in honor of a loved one, a celebration in your life, or just to adorn the space with beautiful flowers.
The cost for a large floral arrangement is $50 per arrangement. There is space for two to three arrangements each Sunday and will be placed in the front of the church or in the Narthex.
The church will take care of placing the order with our florist. If you have a special request for your flowers, please contact Heather in the church office.
Please complete this
online form,
or call Heather, heather@myersmemorialumc.com, 704-864-3222 to provide flowers for worship.