Share The Good News!
Beginning March 14, we will be offering in-person worship at 9am and 11am each Sunday morning as long as Gaston County continues to have a reduction of Covid spread.
As we welcome in-person worshippers to the sanctuary, we will maintain the 9am livestream service and add an 11am livestream via Facebook and YouTube.
Those wishing to worship in-person are invited to sign up the Tuesday prior to the Sunday service. Covid precautions remain in place as we seek to "do no harm" as we stay in love with God.
Should you like an audio recording of a worship service to share with someone not connected to the internet, please contact
Heather Steffey
or call the Church Office at 704-864-3222.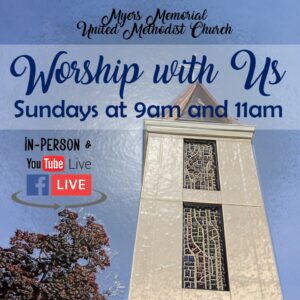 Worship with Us
Online
Sundays at 9a and 11a
In-Person
Sundays at 9a and 11a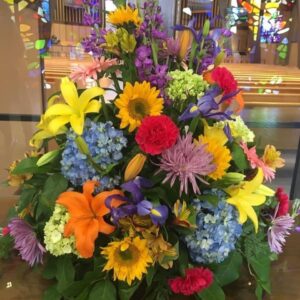 Flowers for Worship
You are invited to sponsor the flowers for worship each Sunday!
Flowers for worship can be provided in memory or in honor of a loved one, a celebration in your life, or just to adorn the space with beautiful flowers.
The cost for a large floral arrangement is $50 per arrangement. There is space for two to three arrangements each Sunday and will be placed in the front of the church or in the Narthex.
The church will take care of placing the order with our florist. If you have a special request for your flowers, please contact Heather in the church office.
Please complete this
online form,
or call Heather, heather@myersmemorialumc.com, 704-864-3222 to provide flowers for worship.