Myers Youth
Middle School: 6th-8th Grades
High School: 9th-12th Grades
Andrew Ingram, Director of Children & Youth Ministries
For all the latest details please make sure you're receiving al the news from Andrew via email & text! You can also find details in weekly church eNews & here!
Myers Youth meets for Sunday School each Sunday from 10a to 10:40a. Middle Schoolers in the Youth Classroom and High Schoolers in the Youth Lounge.
UMYF Benediction The Lord bless you and keep you; the Lord make his face to shine upon you, and be gracious to you; the Lord lift up his countenance upon you, and give you peace. Amen. (Numbers 6:24–26)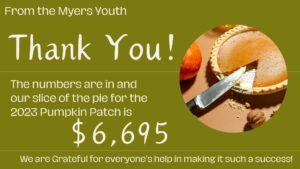 SUNDAY YOUTH MINISTRY
For all the latest details please make sure you're receiving all the news from Andrew via email & text. Send Andrew your contact info at Andrew@MyersMemorialUMC.com You can also find details in weekly church eNews and at the youth webpage www.MyersMemorialUMC.org/youth.
In addition to Sunday Mornings at 10a, Myers Youth meet most every Sunday night from 5p to 6:30p so join us by entering the building via the back door. It might be a study, it might be a service project, it might be a party! Check the dates and make sure you're where you need to be each week! We want you to be a part of Myers Youth!
Nov. 5: Love in a Big World: Kindness
Nov. 12: Putting Kindness into Action
Nov. 19: Turkey Talk
Nov. 26: Unplugged Night: We're chilling out in the Youth Lounge with food and friends!
Dec. 3: Love in a Big World: Cooperation
Dec. 10: Love Feast, 5p, Sanctuary, Youth Christmas Parties in the Youth Lounge (approximately 6:15p)
No Youth Meeting on December 17, 24, or 31
Dec. 17: Lessons & Carols, 5p, Sanctuary
Dec. 24: Christmas Eve Service, 5p, Sanctuary
Jan. 7: Love in a Big World: Fairness
Jan. 14: Sunday Service Night Projects
Jan. 21: Love in a Big World: Respect
Jan. 28: Game On! Game Night
High School Winter Retreat 2024
We're headed to Lake Junaluska Assembly for the SEJ Winter Retreat January 19-21! We'll gather with other United Methodist Youth for fun, fellowship, engaging worship, skiing or local mission work. With Guest Speaker Rev. Iyana "YaNi" Davis and musical leadership of Chuck Bell, the large group worship time will be extra special events! The cost will be between $150 and $215 depending on your activities. Please complete the online registration at here.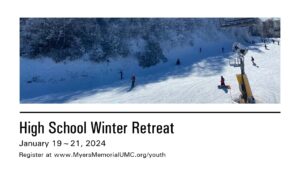 Middle School Fall Retreat
We had a great time on the Fall Retreat! We hope you'll join us for the next opportunity to serve and learn together!
The Middle School Youth (6th-8th graders) are retreating to Camp Tekoa November 10-12 for a time of fun, fellowship, study and service. The cost is $75 but please do not let cost prohibit your middle schooler's participation! We'll depart via church bus at 8a on Friday and return around 12p on Sunday.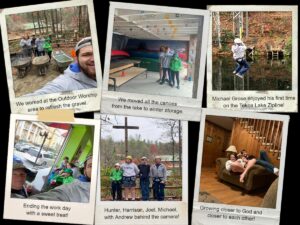 Walking ChristmasTown USA
On Wednesday, December 20th the Myers Youth are meeting at 6p to walk through McAdenville. Dress for the weather and stay connected through text and emails to know the gathering location!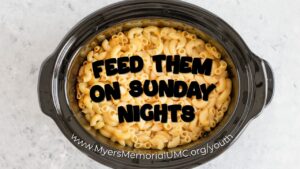 Can you help with providing dinner for children and youth one Sunday? Then click the crock pot! Then please click the sign up button on date you choose.
Feel free to work together with other families or volunteers to provide a meal (you may reach out to the family already signed up to help them!) Paper products and drinks are not needed. The children and youth groups greatly appreciate you volunteering!
Thank you so much for your support.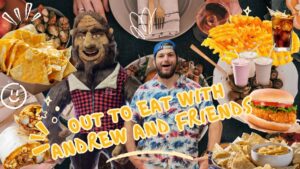 Myers Youth and Friends are invited to join Andrew for dinner from 6p to 7p on the 1st & 3rd Wednesdays. Bring money for dinner or you are welcome to just come hang out but let's be in community together! Don't let Andrew eat alone!
Nov. 1: Special Time 5:30p Meet at the Church for dinner (free) and taking down the Pumpkin Patch!
Dec. 6, Jan. 3: Chick-fil-a (Cox Rd)
Nov. 15, Jan 17: Qdoba (Cox Rd.)
Dec. 20, 6p: We're Walking through Christmas Town USA! Eat before you come!