Myers Youth
Middle School: 6th-8th Grades
High School: 9th-12th Grades
Andrew Ingram, Director of Children & Youth Ministries
Summer Sunday Youth Ministry
For all the latest details please make sure you're receiving the monthly Youth email! You can also find details in weekly church eNews and on the Youth webpage, www.MyersMemorialUMC.org/youth. Be prepared! It's Summertime so we're going to change some things around from time to time!
No Youth On Sunday May 14, 28, or June 18
Unless otherwise noted, a quick meal will be served at the beginning of our gatherings. Please consider hosting a meal one Sunday. Visit the Youth Page to check availability.
Sunday, May 7 | 5:15-6:30p
You are More Than…God sees the potential in each of us…not to ace tests or be perfect, but to be a disciple who transforms the world.
Sunday, May 21 | 5:15-6:30p
Splash into Summer! Wear a bathing suit and bring a towel, we're getting wet!! You might need a change of clothes for the ride home.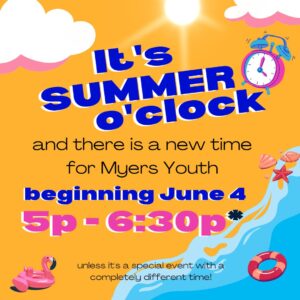 Sunday, June 4 | NEW TIME
5p to 6:30p
Summer Style Youth Group! We're doing some updating in the Youth Lounge and we're adding some great things to our Sunday Nights so we've got to add some time! Join us for dinner at 5p followed by activities, music, games, devotions and small group discussions.
Sunday, June 11 | 5p-6:30p
First Responders Service Project. Nothing can truly say "thanks" enough but we're going to try and show our appreciation! Bring individually wrapped, hopefully homemade and nut-free treats such as brownies, cookies, protein snacks.
Sunday, June 25 | 5p-6:30p
One Size Fits All! Got big problems? Do your problems feel tiny compared to others? Your God loves and cares about each of us!
Sunday July 2 | 12p – 3p
Kayaking Fun Day! Meet and pick up at the Tailrace Marina (1010 Marina Drive, Mt. Holly) Cost is $30/person. Wear clothes and shoes that can get wet, bring a towel and a change of clothes.
Sunday July 9 | 5p-6:30p
I Am Who I Am! Jesus made a long list of "I Am" statements. Who do you say he is?
July 16-18 | 6:30-8p |Vacation Bible School
Called Together to Serve God! 6th-12th graders will meet downstairs each night for a hero-tastic time! Hero attire is encouraged. Register here!
Sunday July 23 | 5p-6:30p
Game On! How many games can you play in 90 minutes? Meet & Pick up at Adventure Landing (2600 E. Franklin Blvd). Tokens will be provided to get you started, bring money for more!
Sunday July 30 | 5p-6:30p
Mele Kalikimaka! Let's Celebrate Christmas in July, Hawaiian Style! Come dressed to party, eat and celebrate the reason for all season ~ Jesus!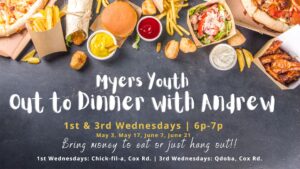 Save these Dates
Honey Hunters Game | August 6 | First Pitch 3:35p
Back to School Family Night | August 20 | 5p
Middle School Mission Trip | November 10-12
UMYF Benediction The Lord bless you and keep you; the Lord make his face to shine upon you, and be gracious to you; the Lord lift up his countenance upon you, and give you peace. Amen. (Numbers 6:24–26)
Celebrating our Graduates
On Sunday, May 21 we recognized our known High School and College Graduates during the 11a worship service.
We hope you will join us in celebrating their achievements!
Known High School Gradates
Matthew Carper, Piedmont Community Charter School
Marie Kalinoski, Forestview High School
Mallory Wolfe, Forestview High School
Known Advanced Degree Graduates
Jordan Brown
UNC-Chapel Hill PHD Mathematics
Katie Carpenter
Gaston College, Cosmetology with Honors
Noah Carper
Western Carolina University BS Emergency & Disaster Management
Cameron Dennis
Gaston College, Esthetics
Madison Alman Despotes
NC State University, MBA
Victoria Flake
UNC-Charlotte, BA, Special Education and Elementary Education
Duda França
Western Carolina University, BS, Marketing
Amelia Hoskins
Queens University, BS, Nursing
Ashley Lowry
UNC-Greensboro, BA Music
CP McGuire
Western Carolina University, BA, Commercial Music & Audio Production
Jillian Medlin
Liberty University, BS, Strategic Communications
Walker Perry
NC State University, BS, Fashion Merchandise Textiles
Clay Pettit
UNC-Wilmington, MBA, Business Analytics
Thais Pettit
Belmont Abbey College, BA, Educational Studies
Katie Proctor
Forsyth Technical Community College, Certified Dental Assistant (CDA)
Reece Radford
UNC-Charlotte, BS, Math
Walker Roper
Gardner Webb University, BS, Business
Kathleen Sharp
Gaston College, Early Childhood Education
Kimberly Shellman
University of Wisconsin, MS, Sustainability Management
Sue Shellman
East Tennessee State University, Ed.D., Educational Leadership with a concentration in Higher Education Leadership
Caroline Shoemaker
Appalachian State University, BS, Construction Management
Frazier Smith
Western Govenors University, MS, Information Technology Management
Lauren Snyder
University of Kentucky, BS, Digital Media Design; Minor, Creative Writing
Elliott Stines
UNC-Charlotte, BS, Computer Science
Rachael Purvis Veazey
UNC-Chapel Hill, DDS, Dental Surgery
June 26-29 | 9a~1p
Pick up and drop off at the CFC
Especially created for rising 4th -9th graders.
One day at a time we'll experience the opportunities in our area for serving others and fellowship.
Please bring a water bottle each day and a bagged lunch on designated days! Closed toed shoes are a must!
To register please complete the registration form and submit $50/person to the church office no later than June 15.
Monday, June 26
Morning:
Crisis Assistance Ministry
Afternoon:
Lineberger Park & Tony's
bring a bagged lunch
Tuesday, June 27
South Fork River Clean Up
Afternoon:
Adventure Landing
bring a bagged lunch
Wednesday, June 28
Morning:
Cookie Decorating & Visiting Homebound
Afternoon:
Pool Party at the Queen's
bring a bagged lunch, swimsuit & towel
Thursday, June 29
Morning:
Pizza Buffet Lunch
no bagged lunch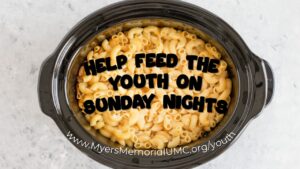 to Feed The Youth on Sunday Nights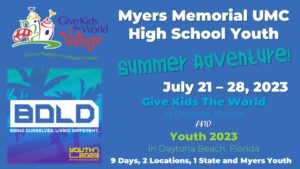 This year our High School Youth are off on a grand adventure July 23-28. These Youth and Adults are headed to Florida for a week of service, discipleship and fun: Rhett Buchanan, Xavier Lyon, Zane Dodd, Brock Davis, Elijah Simpson, Adam Anderson, Ella Queen, Mattie Queen, Charlotte Hearne, Eva Kline, Raegan Lilja, and adults Brooke & Kevin Cook, Lynda Sides, Pastor Sally Queen and Andrew Ingram. This group will start the week at a helping ministry in the Orlando area where they will put their faith into action. Then they're headed to Daytona Beach for Youth 2023, the national gathering for United Methodist Youth in the United States. Youth 2023 is a chance for these youth and adults to experience cutting-edge speakers, amazing artists, and broaden their understanding of what they and their church are capable of! We invite your prayers as they prepare and travel. Coming in June are additional opportunities to support this team.