Myers Youth
Middle School: 6th-8th Grades
High School: 9th-12th Grades
Andrew Ingram, Director of Children & Youth Ministries
Sunday, February 5
5:15p Youth Supper, Youth Lounge
6:30p The Importance of Your Name
Sunday, February 12 ~ Special Time ~
6:30p Super Bowl Party! We'll enjoy the first half and halftime of the Super Bowl. Dinner will be served!
Sundays, February 19 ~ March 26
5:15p Youth Supper, Youth Lounge
6:30p Lenten Study, Learning to Live Inside Out. Examining our soul is more than just looking inward; but living outward as we go about our day in the world.
Sunday, April 2
5:15p Youth Supper, Youth Lounge
6:30p Cyberbullying Program with Officer Williams
Sunday, April 9 ~ No Youth
Sunday, April 16
5:15p Youth Supper, Youth Lounge
6:30p Game Night/Finish Strong Party
Sunday, April 23
5:15p Youth Supper, Youth Lounge
6:30p Kickball
Sunday, April 30 ~ No Youth
We'll be together at Rankin Lake during the afternoon
Myers Youth are Out 2 Dinner
Youth are invited to gather for dinner at 6p on the first and third Wednesdays! First Wednesday we'll gather at Chick-fil-a (Cox Rd) and Third Wednesdays we'll gather at Sake Express (Franklin Blvd).
If you plan on eating, please bring your own money but you're welcome to just hang out and enjoy the time together!
Feb. 15, Mar. 15, April 19: Sake
Mar. 1, Apr. 5: Chick-fil-a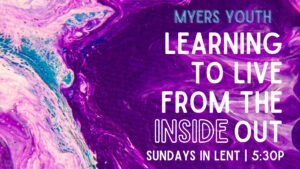 Lent is the 40 days before Easter.
This Study begins February 12th!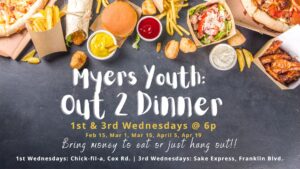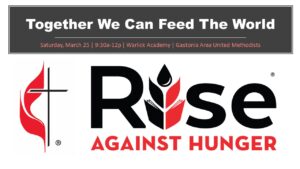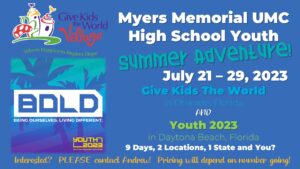 Prices have increased but you are still able to participate!
All information and sign ups can be found HERE
When: July 21-29 2023
Where: Orlando/Daytona Beach Florida
Who: All Youth that are in 9th – 12th grade
Why: Youth 23 is an event that is held once every four years which is sponsored by the Youth Discipleship Ministries of The United Methodist Church.
This would be a one time opportunity for the high schoolers to participate in while in youth. There will be performances, speakers, worship and fellowship. Not to mention the hotel is on the beach!
Before that fun begins, we will head down early to volunteer with "Give Kids the World" which is a resort vacation for children with special needs. This can be a life changing retreat for our youth that combines worship, service and fellowship!