Youth Ministries
Director of Youth & Young Adults
To subscribe to text message reminders, Youth text @myersy or InXbetween text @myersinb to 81010.
Let Tresca know if you would like to be added to our weekly youth e-mail.
Follow us on facebook at www.facebook.com/myersyouth and find Myers Youth on Instagram!
Sunday Nights are for 6th-12th graders with gatherings at the church each week from 5:30p to 6:30p on the office porch. Each night we'll engage in an activity and devotional time. Advanced sign ups are still required.
October 4: Wacky Pumpkin Panic. Be sure to attend this hilarious Halloween whodunit! Sign up in advance with Tresca to receive your character! Costumes are optional and only add to the fun!
October 11 & 18: Faith in Action! We are called to live out our faith each day. How do we live out our faith when confronted with social justice issues such as race and poverty? How do we seek to make "earth as it is in heaven"? Special guests will join us as we seek to follow Jesus.
October 25: Special Time: 6:30p-7:30p Pumpkin Games in the Patch and the annual showing of "It's the Great Pumpkin, Charlie Brown". Bring your chairs or blankets.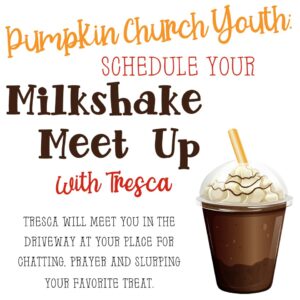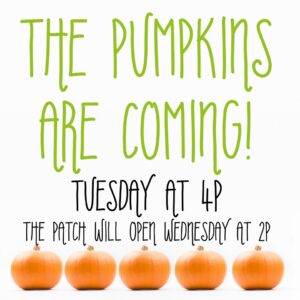 Lots of opportunities to serve in the Pumpkin Patch!
Check out the
Pumpkin Page
for links to sign up for Serving in the Patch!