Children's Ministry @ Myers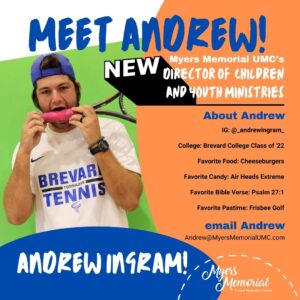 Children's Ministry is thriving at Myers Memorial UMC!
We're super excited to introduce you to
Andrew Ingram,
as our new
Director of Children & Youth Ministries!
Andrew's first day is August 22 and looks forward to connecting with you! The fastest way to get to know Andrew is to come to Sunday school or Sunday Night children's ministry starting September 11
We are committed to providing faith formation opportunities for all God's Children!
Children's Sunday School
Connie Elzey, Director of Christian Education, dce@myersmemorialumc.com, 704-864-3222
We're digging into the Bible in One Year too! We're on a whirlwind journey from Genesis to Revelation! Children will discover that they're a lot like people God has always loved and worked through while building a relationship with God and friends. In June we're learning about Joshua & Judges and in July we'll study Samuel.
Children (preschool to 4th grades) gather each Sunday in in room #103 at 10 for a brief time of music and movement before heading to their age level classes with some of the most amazing teachers! Children return to the room for pick up at 10:40a.
Infants-Toddlers (0-36 months) Room E118
Children (4yrs-rising 5th grades) will gather in room 103 for music and fellowship at 10a and will return for pick up at 10:40a. Children's Classes are on the 3rd floor of the Education Building.
4yrs-1st graders will meet with Judy Thiele, and April Proctor.
2nd-4th grades will meet with Gary & Jerrilynn Boggess, Jaclyn Tant, and Justine Synder.
Worship Nurseries
9a: Room 118: infants – 4 years
11a: Room 118: infants & crawlers; Room 109 Toddlers-4 years.
Created By God
One of the conversations we don't want to have is the one we really need to have and that's the awkward conversation about how we are created ~ male and female. We at Myers Memorial UMC want to help you have that conversation with your child and lay the ground work for any future conversation that seems awkward and embarrassing.
Created by God is offered every other year and will be offered in 2023
We are created by God and God is still at work helping us become the person we were created to be. It's not always an easy process but with accurate information and a safe environment to learn and question, growing up can be a little bit easier. Questions? Contact
Connie Elzey
, 704-864-3222
Camp Tekoa Church Retreat
Coming again in 2023!
Safe Sanctuaries
Myers Memorial UMC is a Safe Sanctuaries congregation following guidelines as presented by the Western North Carolina Conference of The United Methodist Church. This means we ensure extra precautions are in place for all children and youth are protected.