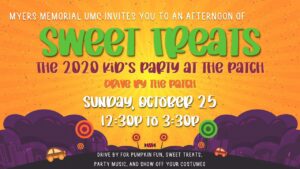 Fall 2020
Sunday School Opportunities
On the First Sunday of the Month (or 2nd Sunday for September), the whole family is encouraged to come for Communion and stay for Children's Sunday School!
September 13
October 4
November 1
December 6
We'll hear the Bible Stories read, pick up our curriculum and crafts for the month, dance and hear great music!
We will require advanced sign ups so we may stay within the guidelines. but if we have a great response – we'll offer another session!
Come Wonder with Us!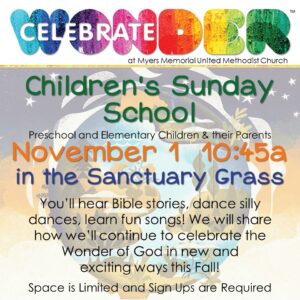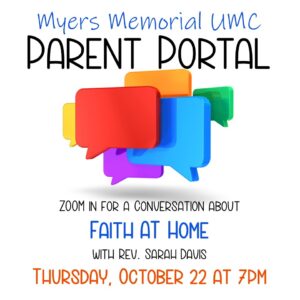 Meeting ID: 826 0375 7953
Passcode: 205869
Contact
Connie Elzey,
Director of Christian Education, with any questions or to join our Children's Mailing Lists!
Divorce Care for Kids (DC4K)
DC4K is a powerful ministry for kids 5–12 years of age.
Are your children angry, hurt and confused about your divorce? Finding help for your children can be frustrating. Divorce Care for Kids, DC4K, provides a safe, fun place where your children will
Learn to understand their feelings
Express their emotions appropriately
Feel better about themselves
Develop coping skills
Be introduced to biblical concepts that will bring comfort
Make new friends
Helping to Build Relationships
Created By God
One of the conversations we don't want to have is the one we really need to have and that's the awkward conversation about how we are created ~ male and female. We at Myers Memorial UMC want to help you have that conversation with your child and lay the ground work for any future conversation that seems awkward and embarrassing.
Created by God is offered every other year and will be offered again in 2021 unless the need is great to offer it before then. If you are interested, please contact Connie Elzey.
We are created by God and God is still at work helping us become the person we were created to be. It's not always an easy process but with accurate information and a safe environment to learn and question, growing up can be a little bit easier. Questions? Contact
Connie Elzey
, 704-864-3222
Camp Tekoa Church Retreat
A wonderful weekend away with your church family! There are lots of things to do for the whole family! Boating, Swimming, Hiking, Porch Rocking, Worship, S'mores, Napping, Crafts, Shopping in town and more!
Traditionally the First Weekend in May
Safe Sanctuaries
Myers Memorial UMC is a Safe Sanctuaries congregation following guidelines as presented by the Western North Carolina Conference of The United Methodist Church. This means we ensure extra precautions are in place for all children and youth are protected.