Children's Ministry @ Myers
Children's Ministry is thriving at Myers Memorial UMC!
We are committed to providing faith formation opportunities for all God's Children!
Andrew Ingram, Director of Children & Youth Ministries
Children's Sunday School
Andrew Ingram, Director of Children & Youth Ministries, Andrew@myersmemorialumc.com, 704-864-3222
Connie Elzey, Director of Christian Education, dce@myersmemorialumc.com, 704-864-3222
We're digging into the Bible in One Year too! We're on a
Infants-Toddlers (0-36 months) Room E118
Children (4yrs-5th grades) will gather in room 103 for music and fellowship at 10a and will return for pick up at 10:40a. Children's Classes are on the 3rd floor of the Education Building.
4yrs-1st graders will meet with Judy Thiele.
2nd-4th grades will meet with Gary & Jerrilynn Boggess, Jaclyn Tant, and Justine Synder.
Worship Nurseries
9a: Room 118: infants – 4 years
11a: Room 118: infants & crawlers; Room 109 Toddlers-4 years.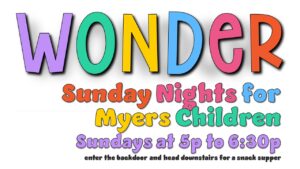 Sunday nights for Children at a NEW TIME and FOOD!
5p to 6:30p on the 3rd floor, our children 'wonder' through the Bible through music, crafts and story time! We give thanks to those who are making the Bible come to life for our children!
5p Dinner (Youth Lounge)
5:30-6:30

Program (3rd Floor)
Nursery for the youngest! Youth meets at the same time!
Small group opportunities for the parents!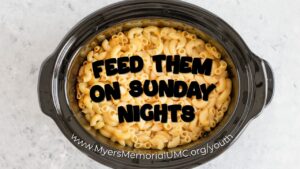 Can you help with providing dinner for children and youth one Sunday? Then click the crock pot! Then please click the sign up button on date you choose.
Feel free to work together with other families or volunteers to provide a meal (you may reach out to the family already signed up to help them!) Paper products and drinks are not needed. The children and youth groups greatly appreciate you volunteering!
Thank you so much for your support.
Created By God
One of the conversations we don't want to have is the one we really need to have and that's the awkward conversation about how we are created ~ male and female. We at Myers Memorial UMC want to help you have that conversation with your child and lay the ground work for any future conversation that seems awkward and embarrassing.
Created by God is offered every other year and will be offered in 2023 as interest allows.
We are created by God and God is still at work helping us become the person we were created to be. It's not always an easy process but with accurate information and a safe environment to learn and question, growing up can be a little bit easier. Questions? Contact
Connie Elzey
, 704-864-3222
Safe Sanctuaries
Myers Memorial UMC is a Safe Sanctuaries congregation following guidelines as presented by the Western North Carolina Conference of The United Methodist Church. This means we ensure extra precautions are in place for all children and youth are protected.