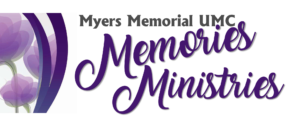 Trinity's Memories Café operates
on the 2nd Wednesday
of each month from 11a to 1p.
October 12
November 9
December 14
January 11, 2023
February 8
March 8
April 12
May 10
June 14
July 12
August 9
September 13

The Memories Café is a social gathering for individuals living with dementia and their care partners. It will be a safe and welcoming place for guests whose dementia is due to any underlying condition, and at any stage of the disease progression. Care partners can include spouses, children, friends, and professional caregivers. The Memories Café will provide meals, snacks, and other activities such as music, other creative arts, stories, and entertainment. It will be a place where people can be themselves without stigma or worrying about what others are thinking.
Gather with us at Myers Memorial UMC (301 S. New Hope Road) from 11a to 1p for lunch and fellowship! This is a place where you can be yourself without stigma or worry!
Trinity Memories Café will operate on the Second Wednesday of Each Month.
For more information contact Mark Hanna (markeddeck@gmail.com) or Susan Robinson (dreamwalkintwh@gmail.com).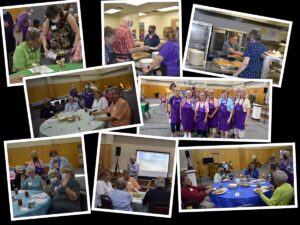 Support groups can become an essential component of a caregiver's well-being and success. By blending support and knowledge, an Alzheimer's support group is a resource that can't be replicated just by reading up on the disease or by leaning on friends or a partner for moral support.
Support groups offer caregivers and family members the opportunity to ask questions, share stories, give and receive comfort and advice, and learn more about Alzheimer's disease (including different stages, caregiving strategies, relevant legal advice, housing and other care options, local care contacts and resources, and more).
It can also be a place to exhale. Caregivers may hesitate to confide certain information or experiences with family or friends who also know the person with Alzheimer's. There can be fear of judgement or criticism. It's often easier to talk with strangers who aren't involved in our particular situations.
And because the other group members have "been there," they may be more likely to listen compassionately to expressions of guilt, frustration, or anxiety.
Caregivers Support Group
Second Tuesday of Each Month
beginning in November 2022
4p to 5p
Myers Memorial UMC
Asbury Room
For more information, you can call Mark Hanna at 704-842-0510.
Mission Statement (or Statement of Purpose) – The purpose of the Memories Cafe is to provide a regular, safe, and welcoming meeting place for people who have been diagnosed with Alzheimer's or dementia and who are experiencing memory loss. Our aim is to create social opportunities through activities such as music, other creative arts, stories, and entertainment as well as to provide social interaction. We hope to help reduce the feelings of isolation experienced by both our members and their caregivers.