Amelia Bumgarner, Bookkeeper
Finance@MyersMemorialUMC.com
Tithing is an act of worshiping God. Like prayer and singing, tithing shows God our appreciation and is an expression of God's generosity to us.
We are so grateful for your financial support of Myers Memorial United Methodist Church. Your financial contributions support the maintenance and upkeep of our church building (HVAC replacement, technology upgrades, re-paving the parking lot, new security system, roof repairs, etc.) so that we have a place to gather in fellowship. Your tithes and offerings also help our church live into our Mission Statement as we cultivate a Christ-centered community that welcomes, loves, and serves one another and the world. We open our doors to many community groups who use our facilities throughout the week such as Meals on Wheels, Scouts, Al-Anon, Narcotics Anonymous. We also serve our surrounding community through Mission Possible, Little Pantry, Backpack Ministry, and preparing meals for serving the Boys and Girls Club. Being a connectional church, your financial contributions also support ministries throughout our state such as the Wesley Foundation that serves college students.
With all that God provides for us, the least we can do is share what we have so that we can serve others. We are grateful for your faithfulness.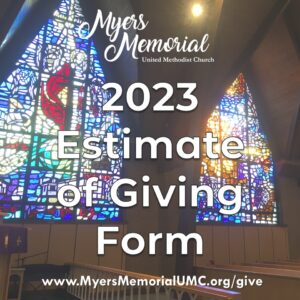 The Finance and Stewardship committee invites you to consider making an estimate of giving for 2023. By knowing an estimate of what the church will receive in financial gifts in 2023, we will be able to make a more accurate and faithful budget for the 2023 ministry year.
Our 2022 ministry theme has been "Vision". Our vision is not just to 'pay the bills'. We want to dream big, to grow and to equip disciples to reach those who need to hear the hope of Jesus. How can you be a part of this vision?We ask that you begin praying and ask God how you can be a part of this journey.
Please prayerfully consider making a pledge, an estimate of giving, for 2023. Your financial contributions are needed so that we can provide space, support and opportunities to share and grow in our faith. You should have a received an Estimate of Giving Card in the mail, or you can find one in the Sanctuary entrance (Narthex), or there is an online option found by clicking the graphic. We invite you to prayerfully complete this card and return it digitally or to the designated basket in the Sanctuary or office.