The Church says that tithing is "the minimum goal of giving….", but does not specify net or gross. Some people tithe out of their gross income. Many tithe from their adjusted gross income and many tithe out of the after tax income. The important thing is to begin to tithe. God can always work on the details later.
We are so grateful for your financial support of our church. We celebrate the exciting updates such as new sinks in the bathrooms in the children's wing and new paint in the youth lounge. We love to open our doors to hundreds of community folks who use our facilities throughout the week as we host Meals on Wheels, Men's basketball, Scouting, Ala-non, NA, and the Weekday Preschool. We are proud to serve meals at the Boys and Girls Club and provide backpacks meals to elementary children. We can do all of this, and much more, because you give to the church budget. Thank you for your faithfulness.
Ways to Give:
Place a check in the offering plate on Sunday.
Contact your Financial Institution to set up reoccurring contributions.
Mail a Check to the Church
Myers Memorial UMC
301 S. New Hope Road
Gastonia, NC 28054
Mail a Check to the Finance Office
Cherry Bekeert
attn. Angie Rutledge
322 Burtonwood Drive
Gastonia, NC 28054
Text 844 906 2312 to Give
Give Online by Clicking Below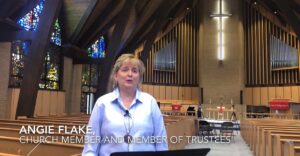 The recent church wide survey shared a common theme: we must upgrade our technology in the sanctuary and around the building. We are blessed to have the current technology that allows us to continue worship together each week, yet we've seen the glitches and it's limitations and we know that it can be much better. We have the opportunity to make the much needed technology upgrades before returning to in person worship so that we can achieve a higher quality of online worship and in person worship. Please watch this video as Angie Flake, church member and member of Trustees shares how you can help make these necessary upgrades happen!