Myers Memorial UMC
Weekday Preschool
Janet Lagos, Director
preschool@MyersMemorialUMC.com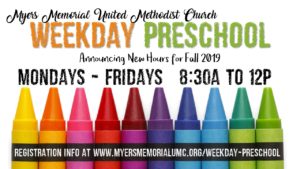 New Hours for Fall 2019
8:30a- 12p
Our Preschool offers care for children 6 months to 4 years old. Our program is designed to help children build those skill necessary for kindergarten as well as social and emotional development. Come in or schedule a tour to find out more about our program.
Fall Open House scheduled for Sunday, August 25th ~ Drop in between 2p & 4p
Jornada de puertas abiertas se llevara a cabo el Domingo 25 de Agosto entre las horas de 2:00-4:00
Nuestra Pre-escolar offrece classes de niños empesando a 6 meses de edad hasta los 4 anos. El program esta diseñado para ayudar a los niños con el desarrollo emotional y social. Los invito a visitar nuestra escuela y aprender mas sobre el programa.
We currently are able to offer classes for Infants, Twos, Threes and Four Year Olds.
Registrations forms are due as soon as possible to ensure your child's spot along with the registration fee is $75.00 per child. Two days (Tuesday & Thursday): $160.00 per month Three days (Monday, Wednesday, Friday): $185.00 per month Four days (Monday-Thursday or Tuesday-Friday): $205.00 per month Five days: $230.00 per month
Children under one, please add an additional $20.00 per month.
* A 10% discount is available for each additional child enrolled, per household.
* For those enrolled in 5 day classes ~ a 10% discount is available for each additional child enrolled.
* Four year old class is a five day kindergarten readiness class.
Preschool Open House will be Sunday, August 25 ~ Drop in between 3p & 4p. Our first day of preschool will be Tuesday, September 3rd.
Monday – Fridays
8:30am to 12pm