Myers Memorial UMC
Weekday Preschool
Janet Lagos, Director
preschool@MyersMemorialUMC.com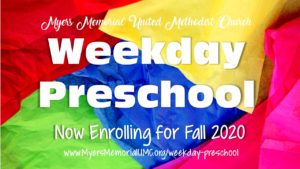 Weekday Preschool Hours
8:30a- 12p
Our Preschool offers care for children 2 years to 4 years old/Pre-K.
Our program is designed to help children build those skill necessary for kindergarten as well as social and emotional development. Come in or schedule a tour to find out more about our program.
El program esta diseñado para ayudar a los niños con el desarrollo emotional y social. Los invito a visitar nuestra escuela y aprender mas sobre el programa.
We offer Two, Three and Four-Year-Old Classes.
The hours of operation are 8:30 am to 12:00 pm.
Registrations forms are due as soon as possible to assure your child's spot.
The registration fee is $75.00 per child.
The drop-in rate is $40.00 (availability may vary).
A 10% discount is available for each additional child enrolled, per household who attends 5 days.
Four-year-old class is a five-day kindergarten readiness class.
Monday – Fridays
8:30am to 12pm