2021 Pumpkin Patch @ Myers Memorial UMC
2021 Pumpkin Patch Hours
Tuesdays: 2p to 7p (dusk)
Wednesdays: 11a to 7p (dusk)
Thursdays: 2p to 7p (dusk)
Saturdays: 10a to 7p (dusk)
Sundays: 12:30p to 7p (dusk)
The Pumpkins are Here!
Pumpkin Sunday turned into Pumpkin Wednesday and now it's Pumpkin Season at Myers Memorial UMC!
Can you serve in the Pumpkin Patch?
Click here to sign up for a shift or two.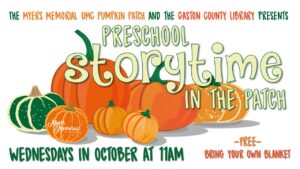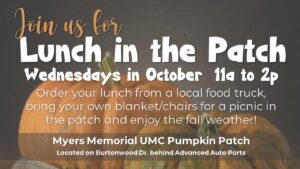 Muc
h of what we know and love about the pumpkin patch will stay the same,
yet we continue to practice safe distancing and healthy habits.
Picking the Perfect Pumpkin There will be a designated entrance and exit and flow to the patch. More spacing between the pallets to encourage pumpkin pickers to maintain social distance while they peruse.
Paying for Pumpkins We will take cash and checks, but we will not be giving any change, so all cash should be exact or consider giving a donation to the youth group. Credit cards will be accepted and we are looking at other touchless, electronic ways of paying.
Protecting Pumpkin People

Masks are suggested for everyone over three years old while visiting or volunteering in the Patch. We need our church members and volunteers to help set the expectation for masks in the patch. And sanitizing stations will be set up at the entrance and exits for patrons to utilize.