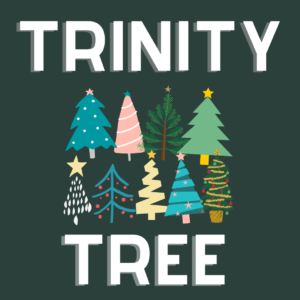 The Trinity Tree stands tall in the Narthex as you enter the Sanctuary Building. It serves as a donation point for our ongoing collections. Each month the Outreach Committee will highlight a ministry and invite you to engage by bringing items to donate.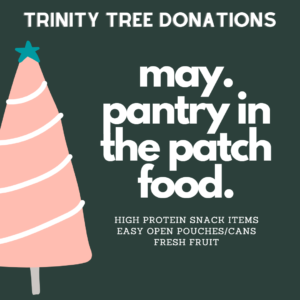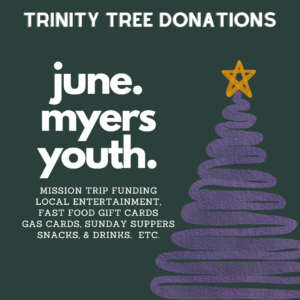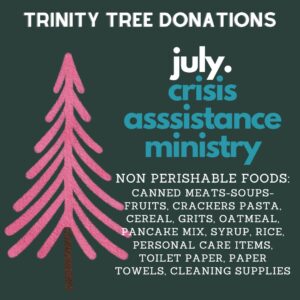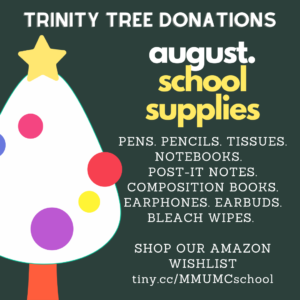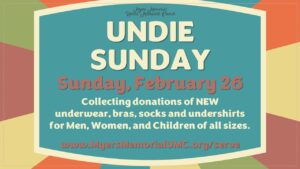 Undie Sunday!
Not to pry, but what's something you never leave home without? There are many in our community who lack some of the basic undergarments we often find to be every day necessities. So we're hosting an Undie Sunday on February 26th. We are collecting NEW, still-in-the-package underwear, socks, undershirts and bras for men, women, and children of all sizes. We will continue to accept these necessities but encourage everyone to bring some undies on Sunday, February 26th. You may also shop online via our
Amazon wish list.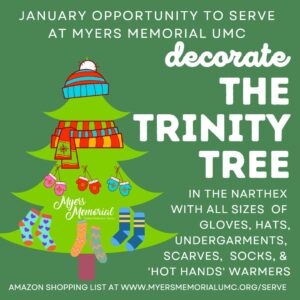 Decorate The Trinity Tree with Warm Winter Wishes
The Trinity Tree will remain in the Narthex for another month! This January you are invited to decorate the Trinity Tree with all sizes of gloves, hats, undergarments, scarves, socks & 'Hot Hands' Warmers. You may pick up these items at any of your favorite retail locations or you can shop via our
Amazon wish list
. We want to warm up Gastonia so let's purchase the warmest, most durable items possible!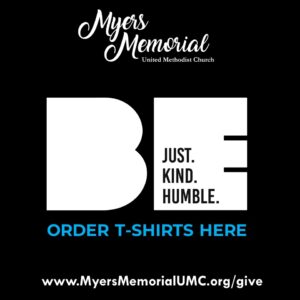 Join the BE Campaign!
Wear your Be Campaign shirts when you're out and about!
Pick up a yard sign in the Narthex, a magnet for your vehicle, or a sticker for your water bottle/notebook/etc. and spread the news that you are committed to Being Just, Kind and Humble.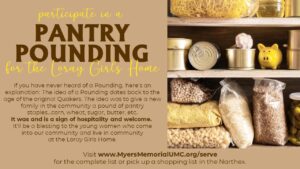 Loray Girls' Home Pounding List
The Outreach Committee is hosting a Pounding for the Loray Girls Home, a local residential facility for young girls/women in their late teens and living in the foster care system.
If you have never heard of a Pounding, here's an explanation: The idea of a Pounding dates back to the age of the original Quakers. The custom was established to welcome a new community leader and family into a community. The idea was to give the family a pound of pantry staples…corn, wheat, sugar, butter, etc. It was a sign of hospitality and welcome.
Now, we don't live in a time of cellars and dry storage. We are more of a coffee and chocolate kind of culture. Help us meet some of the basics of communal living by bringing "pounds" of pantry staples or gift cards to help them stock up the kitchen and feed the many mouths that gather around the table.
Household items: Toilet Paper, Paper Towels, Laundry Detergent Pods, Dish washing Pods, Dryer Sheets, Tall Kitchen trash bags, Lysol All Purpose Spray Cleaner, Windex, Air fresheners
Personal Items: Shampoo and Conditioner, Body wash, Super Tampax Tampons, Always Thin Pads
Dry Food Goods: Can Vegetables, Can Fruits, Sauces (Alfredo, Spaghetti), Pastas, Gatorade Zero's (small bottles), Bottle Waters
Miscellaneous Items: Epson 212 Cartridges (Black and colored ink), Gift Cards to restaurants, Gift cards to Target, Walmart etc.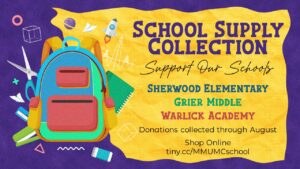 School Supplies
Shopping List: Plastic Pocket Folders, Pencil Pouches, Earbuds, Over-the-Ear Earphones, Tissues, Hand Sanitizer, Highlighters, Spiral Notebooks (single and multi-subject), Graph Paper, Composition Notebook (wide-ruled), Ballpoint Pens (blue & black), Dry Erase Markers, Glue Sticks, Ticonderoga Pencils, Crayons, Broad Line Markers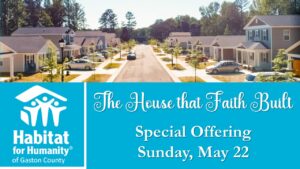 The House that Faith Built
The Gaston County faith community is invited to come together on May 22 to raise necessary funding for one Habitat Home. If 15,000 of Gaston County's faith community donated just $10, one house will be fully funded on one Sunday. The House will be built in the Dixon Village subdivision and you can learn more at www.habitatgaston.org.
Donations for The House that Faith Built can be given on May 22nd in Worship and earmarked HGFAITH.
+ Text to Give: Text HGFAITH to 44321 (click on the link you receive, select an amount you wish to give, select payment method and complete the prompts to submit your gift);
+ Mail a Check: directly to Habitat for Humanity of Gaston County, Inc. (earmark: HGFAITH) 1840 E. Franklin Blvd., Gastonia, NC 28054;
+ Give Online at habitatgaston.org by clicking the donate button. Please note HGFAITH in the comments section.