Sunday School is still meeting!
Various Classes are meeting online via Zoom at varied times!
If you are not currently connected with a class, please reach out to
Connie Elzey
and she will help you find a group!
Open Minds Class
Sundays at 10am via Zoom
Current Study: Topical Discussion
Utilizing Amplify Media for video components
Asbury Class
Sunday at 10am in the CFC. Wear a mask and a chair.
Class size is limited to 10 persons gathering.
Drifter's Class
Sundays at 11am via Zoom.
Meeting ID: 864 574 510
Password: Drifters
New Life Class
Currently participating in the Tuesday evening Lenten Study
Tuesdays at 7p
Contemporary Class
Periodically meeting in person. To be added to the list, contact Angie Flake (text: 704-616-2636) or email
the church
to be added to the email list.
United Sunday School Class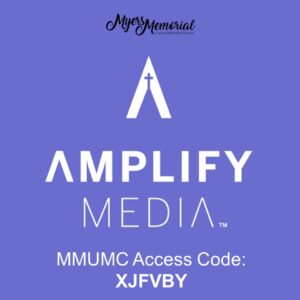 Looking for ways to stay connected to the vine? Our church now has access to Amplify! Amplify is a multimedia platform that features thousands of videos you can use for study, reflection, worship and inspiration. Think of it as Netflix for the Christian Faith! Amplify has videos that can be used in your small groups, Bible studies, and of course in your own personal faith journey. With the access code below, you can access all of these videos anytime and on almost any device!
Enter Our Access Code: XJFVBY
You will need to create a free account.
College Class: The College class meets each Sunday morning at 10:00 AM . Biblical and everyday lessons are shared with our college students in class and through email lessons. Whether furthering your education in Gastonia or away, this class is always available! Holiday and summer socials are held throughout the year.
Asbury Class: The Asbury Class is composed primarily of couples and singles in their mid-adult years. The class studies the International Lesson Series. Five teachers, who rotate from Sunday to Sunday, offer differing perspectives in their lectures and often lead the class in lively discussions.
Open Minds: Topical studies and class discussion about a variety of topics are what you'll find in this gathering each Sunday. Video lessons and class conversation.
Contemporary Class: Literature, which is chosen by class members every 4-8 weeks, enriches our Christian faith through the study of social issues and Biblical teachings. Fellowship gatherings occur regularly. The class is open to any age person seeking personal spiritual growth in a caring, open fellowship.
New Life Class: The New Life Class is an open and diverse group of adults. Lessons are discussion-based using the International Lesson Series. Many levels of Christian faith are represented in this class. The New Life Class enjoys socials during the year to celebrate friendships. The class welcomes all to join them each Sunday morning.
Rejoicers Class: The Rejoicers Class is designed to nurture Chancel Choir members during the Sunday School hour. Curriculum includes a variety of Biblical, historical and contemporary studies along with discussion. The Rejoicers Class welcomes all persons and all ages. The class especially welcomes choir members searching for a Sunday School home.
The Drifters: The Drifters Class consists of all ages married and single. This class studies a variety of topics including world religions, current events and many book series. They have regular social activities and hope you will join them!
United Class: Adults who are single or married, out of school, beginning careers, starting families or sending kids to school, and planting roots at Myers Memorial UMC, are invited to join this class. Fellowship and Bible Study are offered each week. Social activities are planned on a regular basis. This class looks forward to welcoming all as they discuss faith matters.