Sunday School
Sundays at 10am
If you are not currently connected with a class, please reach out to Connie Elzey and she will help you find a group!
Children and Youth Classes will meet each week from 10a to 10:40a. Adult classes are a little more fluid and will meet between services (roughly 9:50a to 10:45a) and some will attempt to be hybrid (some in-person and some on-line, at the same time!) Curious about that the adult classes are offering? Reach out to the class contact! They'd love to share with you how they're deepening their walk with Jesus!
Infants-Toddlers (0-36 months) Room E118
Children (4yrs-4th grades) will gather in room 105 for music and fellowship at 10am then ~ 4 years through 4th grades, will be on the 3rd floor of the Education Building.
4yrs-2nd graders will meet with Judy Thiele.
3rd-5th grades will meet with Gary & Jerrilynn Boggess, Jaclyn Tant, and Justine Snyder.
Middle School Youth (6-8th Grades) will meet on the 1st Floor in room E12, located off the Youth Lounge with the Meltons and the Klines.
Sr. High Youth (9th-12th graders) will meet downstairs in the Youth Lounge with David Elzey and Lois Carnes.
Adult Ministries
Open Minds is a hybrid class in the adult wing of the education hallway – room E104. Contact: Jennifer & Mike Rhodes (jsmrhodes@gmail.com).
Contemporary Class is located in the adult wing of the main level of the education hallway in room E106. Contact Angie Flake (lgh1986@aol.com).
Asbury Class will resume meeting in the Asbury Room on the CFC hallway in room CFC106. Contact Gail Horn (2horns@carolina.rr.com).
New Life Class meets in the New Life room E02 on the first floor. Contact Wendy Wade (whopewell@carolina.rr.com).
Small Groups
You're invited to join in a small group! Need help finding one? Want to help facilitate one? Contact Connie Elzey, director of Christian Education, dce@MyersMemorialUMC.org or 704-864-3222 ext. 105.
Good Enough Book Study with Laura Beatty. Will meet on Sundays through December 3 6:30p in the Choir Room.
Thursday Morning Study,
10a in the Asbury Room. Now Studying:
On Purpose: Finding God's Voice in Your Passion
. with Rev. Everett Stoddard.
Soul Purpose
with Rev. Everett Stoddard. Ongoing, Thursdays, at 6:30p in the Asbury Room. Now Studying:
On Purpose: Finding God's Voice in Your Passion
Sunday Evening Bible Study with Allison Evanoff & Tonda Coonce facilitating. Meeting weekly at 5:30p in the Asbury Room. The class will delve into a deeper study of the book of Revelation through December 17 (not meeting December 10). The Group will resume on January 7.
Unrelenting Grace: A United Methodist Way of Life by Bishop Ken H Carter, Jr. Sundays (biweekly) September 24, October 8 & 22, November 5, 5p to 6:30p in Room 105
Coming Soon!
Beginning November 30th, the Thursday Studies will take a four week Advent adventure using
An Unlikely Advent
by Rev. Rachel Billips.
Coming in January:
The Sunday Night Study group will begin a new weekly study on Sunday, January 7 at 5:30p using Bishop Tom Berlin's book Restored: Finding Redemption in our Mess. This study is open to all who are interested!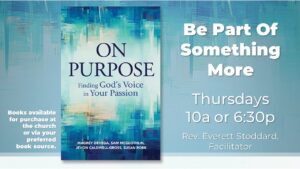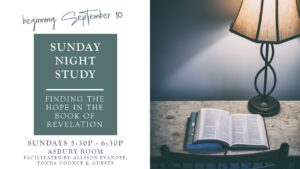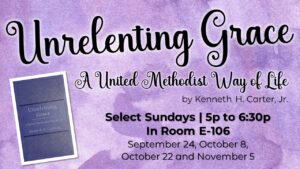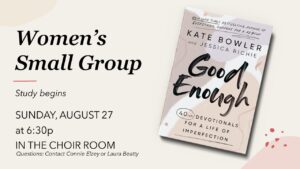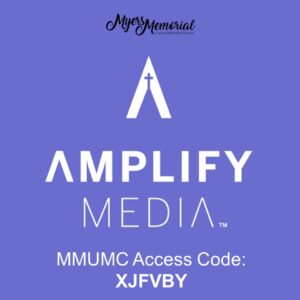 Looking for ways to stay connected to the vine? Our church now has access to Amplify! Amplify is a multimedia platform that features thousands of videos you can use for study, reflection, worship and inspiration. Think of it as Netflix for the Christian Faith! Amplify has videos that can be used in your small groups, Bible studies, and of course in your own personal faith journey. With the access code below, you can access all of these videos anytime and on almost any device!
Go To: my.amplifymedia.com/amplify
Enter Our Access Code: XJFVBY
You will need to create a free account.