Myers Health Cabinet
Healthy Together: Body, Mind, & Soul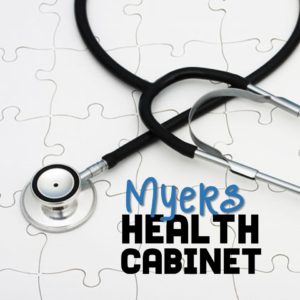 Say to him: 'Long life to you! Good health to you and your household! And good health to all that is yours!'
1 Samuel 25:6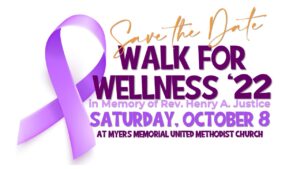 Covid Shot Clinic
Thursday, June 30th
4p to 7p
Church Narthex
No Appointment Necessary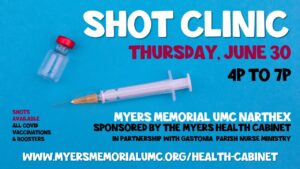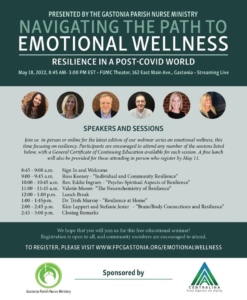 Navigating the Path to Emotional Wellness
Resilience in a Post-Covid World
May 18, 2022 ~ InPerson & Online
Sponsored by the Gastonia Parish Nurse Ministry
Join us in-person or online for the latest edition of our webinar series on emotional wellness, this time focusing on resiliency. Participants are encouraged to attend any number of the sessions listed below, with a General Certificate of Continuing Education available for each session. A free lunch will also be provided for those attending in person who register by May 11.
The Hope4NC Helpline
(1-855-587-3463) connects North Carolinians to additional mental health and resilience supports that help them cope and build resilience during times of crisis. As part of the state's recent hurricane recovery efforts it served over 4,400 people in the most impacted counties, and now it is being made available to everyone in North Carolina's 100 counties during the COVID-19 crisis. This initiative is in partnership with all seven of the state's LME/MCOs and REAL Crisis Intervention Inc. in Greenville. Hope4NC is now available 24 hours per day, seven days a week to speak to a live person.