The More You Know; The More You Hurt
Ecclesiastes 1:18b (The Message)
The More You Know…
For thirty years, NBC has run a public service ad campaign called "The More You Know" and addresses the nation's most pressing social issues. Taking a unique stance, the entertainment company was the first to launch it's own public service campaign in response to the teacher shortage in the late eighties. Since then, "The More You Know" campaign has partnered entertainers, politicians, authors with leading nonprofits and government agencies to ensure they deliver the most credible, useful and timely information possible.
As we head into the 2019-2020 school year, we invite you to hear the message of the August sermon series as we bring together the needs and issues of our local schools, educators and community leaders along with the scriptures and teachings of Jesus. We hope the more you know, the better able we will all be to respond with compassion to the needs of our neighbors.
Sunday
August 4
Communion
Matthew 5:1-12
"Blessed are the Poor in Spirit"
Focus on Bullying (School Safety, Social Media, Respect)
Sunday
August 11
New Member Sunday
Matthew 19:13-15
"Let the Little Children Come to Me"
Focus on Lack of Support/Resources for School Children
Sunday
August 18
"Go Sell Your Possessions and Give to the Poor"
Focus on Poverty & Food Insecurity
Sunday
August 25
Christian Education Sunday
Blessings of the Backpacks
Matthew 11: 28-30
"Come to Me All Who are Weary"
Focus on Mental Health
Back to School Shopping
We've compiled a list of school supplies that are needed by the students and teachers at Sherwood Elementary, Grier Middle and Warlick Academy. Please bring these items to worship with you in August and place them at the front of the sanctuary. Bins are available in the Church Office during the week.
Or Click the Link to the right to shop items on Amazon.
Baby Wipes
Clorox Wipes
Boxes of Tissues
Earbuds/Earphones
1" 3-ring Binder
5-tab Dividers
Composition Books
Binder Pencil Pouch
20ct Pencils
Individual/Personal Pencil Sharpener
Glue Sticks
Snack sized packs of nuts or trail mix
Microwaveable 'pouch' items (rice, pasta)
Microwaveable Mac 'n cheese, chef Boyardee or soups.
Meats: 'pouch' or canned tuna, chicken
Individually packaged items: oatmeal, grits, cereal, pop tarts
Pancake mix & syrup
Warlick Academy is in need of these specific headphones.
A Day in Their Shoes ~ 8/18
Poverty is a reality for many individual and families in our community. But unless you've experienced poverty, its difficult to truly understand. On August 18th from 5p to 7p in the CFC, you are invited to spend a 'day' in the shoes of someone experiencing poverty.
This is an interactive immersion experience that seeks to sensitize our congregation to the realities of poverty. It is not a game. It's based on real members of our community and their lives. Like real life, you need transportation to work or school. You need food on the table. You might struggle with a chronic illness.
Throughout this experience you will face the stresses and challenges a person in poverty faces. In an effort to better understand what our neighbors lives are like on a daily basis and in a very real way, all ages are invited to participate. Nursery is available upon request for infants through younger elementary aged children.
Join us in "a day in their shoes".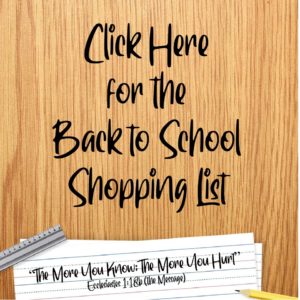 Click Here to Shop the List On Amazon
All orders will be mailed to the church! Orders will be anonymous unless you make note in the "gift" section.