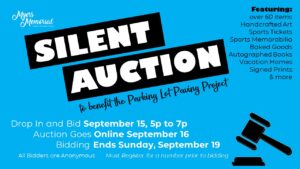 The Silent Auction is well underway!
Thank you for your graciousness as we seek to raise money to pave our parking lot! This has been so much fun! All items are posted in a
Facebook Album
(you do not have to have Facebook to see the items, only to comment on the pictures!)
Bids have been updated as of 9/16 at 10p. Please check the comments to see if anyone else has posted a public bid before making your bid (you may have to change the comment filter to be "all comments" not "most recent")
If you wish to make a bid, you must obtain a number. Please email
Cam Jenkins
with your email and phone number.
If you have a number and wish to bid on the photo – please do!
If you wish to bid silently, please message
Cam Jenkins
and include your bid number and bid amount.
ONLINE BIDDING WILL END SATURDAY EVENING
You may bid again in person on Sunday morning in the CFC from 9:30-10:55a.
ALL BIDDING WILL CLOSE AT 10:55am ON SUNDAY
Winners will be announced after 12p and you will have 24 hours from notification to accept the bid and make arrangements for pick up and payment.
Please Visit the Facebook Album
for all Bidding Information