Youth Ministries
Director of Youth & Young Adults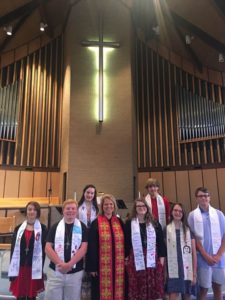 2018 Confirmation Class
Ashley Fehrs, Dawson Moore, Marie Kalinoski, Rev. Sally Queen, Sydney Shugart, Jake Hoskins, Mallory Wolfe, Andrew Walker
Summer Sundays
9:45a Sunday School, Youth Lounge
10:50a Worship, Sanctuary
5:30p to 7p ~ The Main Event
The Main Event on Sunday nights will consist of dinner, games, fun, learning, service & more! Don't miss it and bring a friend!
Sunday Night Main Event
Sunday, August 5: Haywood Street, 12p to 8:30p Youth will leave following worship at MMUMC and travel to downtown Asheville, NC for a day of service and worship with the Haywood Street Congregation. Core programs at Haywood Street include weekly worship, a clothing closet, community garden, a free community lunch known as the Downtown Welcome Table, and Haywood Street Respite, which offers a safe place for adults experiencing homelessness to stay on a short term basis after being discharged from a hospital. Those who eat and worship together at Haywood Street are individuals carrying all their worldly possessions in ragged backpacks as well as privileged professionals, stay-at-home moms, students and the working poor. We will help serve during the evening welcome meal and then attend worship. Youth need to bring money for lunch on the way as well as an offering for Haywood Street. We will return to Myers around 8:30.
Sunday, August 12: Pizza with the Pastor, 5:30pMeet in the youth lounge for delicious pizza (not delivery) and hearty conversation with Pastor Sally. Youth are welcome to bring their questions and their friends as we have a time to get to know one another on a deeper level.
Sunday, August 19: Pool Party, 12p-3p Jump on the bus after worship and head to Brendan Rooney's house. Don't forget your towel and your suit! Lunch is provided. We will return to the church around 3:30 pm.
Sunday, August 26: Back to School Bash, 4p-6p If we have to go back to school, let's kick it off in style!! The Youth, In-betweens and their parents are invited to a cookout in the Gathering Garden followed by games, fellowship and more! Come find out what the rest of the Fall has in store! Childcare provided for younger siblings.
Wednesday Nights
CORE resumes August 29
6:30p
Meet in the Youth Lounge for youth led devotions.
Dinner at 5:15p in the CFC
Worship at 6p in the Sanctuary