Youth Ministries
Director of Youth & Young Adults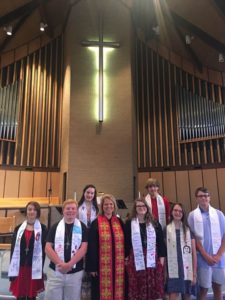 2018 Confirmation Class
Ashley Fehrs, Dawson Moore, Marie Kalinoski, Rev. Sally Queen, Sydney Shugart, Jake Hoskins, Mallory Wolfe, Andrew Walker
Summer Sundays
9:45a Sunday School, Youth Lounge
10:50a Worship, Sanctuary
5:30p to 7p ~ The Main Event
The Main Event on Sunday nights will consist of dinner, games, fun, learning, service & more! Don't miss it and bring a friend!
Sunday Night Main Event
June 3
Messy Water Games
5:30-7:00 pm.
Come ready to get wet and messy at this fun, exciting event! We will eat dinner and then commence the activities on the pumpkin patch field! You never know what messy surprises are in store! Bring a towel, something to sit on for the ride home, and a friend!
June 10
Escape Room
Meet at the church at 4:45 pm to head to the Xtreme Xscapes at the mall! Test your teamwork and strategy as we work together to figure out the puzzles to escape the room. We will eat dinner at the Mall afterwards and return to the church around 6:45 pm.
June 17
Father's Day
Plan to spend this day with your family!
June 24
Youth Room Game Night
5:30-7:00 pm
What's your favorite game- Spyfall? Apples to Apples? Scattergories? Come play them all at our Youth game night. Bring your favorite snack and drink to share and come enjoy the fellowship!
Wednesday Night
Wednesday, June 20
Meet at Floyd and Blackies at 6:30 pm for ice cream and devotion and we will walk over to Goat Island Park for some fun. Plan to be picked up from Floyd and Blackies at 8 pm.
July 22-28, 2018 Orlando, Florida
Just Completed 6th-12th Grades
Cost: $250 before April 8 $325 after April 8
Primary Mission Focus: Give Kids The World Village
Give Kids the World an 84-acre nonprofit resort in Central Florida providing weeklong, cost-free vacations to children with life threatening illnesses and their families. Our job will be serving in the kitchen, playing games and providing entertainment in the village. When we aren't needed at the Village, we 'll be working with other Orlando agencies!