Worship at Myers Memorial UMC
Health Cabinet Update December 2021
I have been asked to provide a health update on the current state of Covid in our area so that we can continue to make the best decisions to keep ourselves, our congregation and our families safe and healthy. Unfortunately we are still in the middle of the pandemic. I just read some disturbing statistics – the US has recorded at least 385,348 COVID-19 deaths so far this year, surpassing last year's death toll of 385,343, and the number of new cases is rising!
Since the main roll out of vaccines started in the spring of 2021, the hope is we will see a decrease in this number in the next 12 months. For Gaston County, currently 50% of Gaston County has received at least one Covid vaccine and 46% are considered fully vaccinated. However, when we compare Mecklenburg County, they have 63% with one dose, and 58% fully vaccinated. If you've not received your vaccine, please speak to your doctor about it. The CDC has valuable resources as well that discusses the safety, potential risks and myths to the vaccine (please see links below).
At least one of the vaccines (Pfizer) has now been approved for anyone ages 5 and up. The Moderna and J&J vaccines can be given to anyone 18 and up. Booster doses are now advised for all persons who have been previously vaccinated – for Pfizer and Moderna vaccines six months after your second shot and for J&J, two months after your first shot. Your primary series
of vaccines should be all the same manufacturer but your booster can be of a different one.
As I mentioned above, our cases are back on the rise. We did start to see a decrease in August/September as the vaccine numbers increased, the Covid boosters began to circulate and the delta variant seemed to have subsided. Unfortunately, the current trend is going back up, with Gaston County still in the 'high community transmission'. The CDC guidance for those communities of high community transmission, is to 'wear a mask in public, indoor settings'.
So, yes, we at Myers are still #askingformasking
The flu season of 2020 was very mild, however this year we anticipate a more traditional flu season as people are gathering more, schools are in session, and masking is not as universally occurring. We don't want to be in a 'twindemic', where we have sky high flu cases along with Covid-19. The covid vaccine does not protect against the flu virus and vice versa. I encourage you to get your flu shot if you haven't already.
I think we are all enjoying getting back into the church at Myers and remaining as safe and healthy as possible. Even behind our masks, you can offer a smile with your eyes I very much appreciate the cooperation and compliance with our asking for masking. May God bless you and your family with good health in the upcoming Christmas season.
Sincerely,
Allison Evanoff, MD
Chair, Myers Health Cabinet
Helpful links:
https://covid.cdc.gov/covid-data-tracker/#county-view
https://covid19.ncdhhs.gov/
https://www.cdc.gov/coronavirus/2019-ncov/vaccines/facts.html
https://www.cdc.gov/coronavirus/2019-ncov/vaccines/How-Do-I-Get-a-COVID-19-Vaccine.html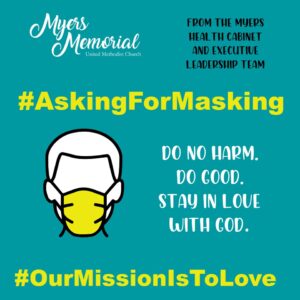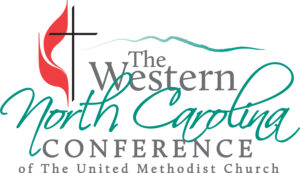 WNCC UMC COVID Update
December 14, 2021
With COVID infections on the rise, increased hospitalizations over the past 4 weeks, and the highly contagious nature of both the Delta and Omicron variants, the Bishop and Cabinet of the Western North Carolina Conference are sending this reminder of best practices for ministry gatherings.
We do this, recognizing the importance of our gathering for worship in this season of Advent and Christmas, and in gratitude for many of you who have led faithfully in an extended and complicated period of almost two years of the pandemic.
We remain committed to our biblical mandate to "love our neighbors as ourselves" and our Wesleyan call to "do no harm." We also know that there are many among our membership who have health challenges. Continuing to follow these recommended protocols is the best protection for the most vulnerable in your congregation(s).
Wear a mask while indoors, even if you are fully vaccinated.
Practice social distancing while indoors to avoid unmasked extended contact (spending longer than 15 minutes less than 3 feet from those outside your "pod").
Stay home if you do not feel well. Get tested if you have COVID-19 symptoms, or if you have had close contact with someone with confirmed COVID-19.
Singing in worship is acceptable but masks should be worn, especially if socially distancing during worship is difficult. Use of hymnals and bulletins is ok as well.
Minimize the serving of food and beverages so as not to encourage removing masks to eat or drink unless socially distanced.
Encourage getting the booster for those who can. (Persons 16 and older can receive it at this time. – CDC.gov)
Continue to encourage the use of hand sanitizer and proper hand washing.
Being vigilant during this trend of increasing infections will help our churches minimize the risk of COVID-19 exposure and continue to prioritize caring for the most vulnerable among us. We have witnessed our churches offering vital worship while using these protocols. We also give thanks for the gift of online worship. We thank you for your continued leadership as we take steps to move COVID-19 from a pandemic to endemic.
Grace and peace,
Amy L. Coles; Assistant to Bishop Carter
Western North Carolina Conference