Myers Memorial UMC
Weekday Preschool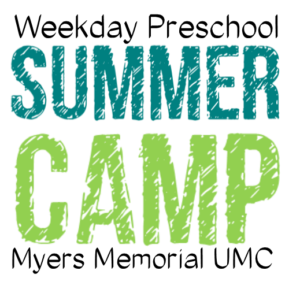 Monday – Friday
June 11 to July 27*
9am to 1pm
Preschool & Elementary Ages
*closed the week of July 4
Our six-week, five days-a-week summer camp will be crammed full of great fun for children age one year through just completed 5th grade with a flexible schedule to fit your summer schedule! Each week will have fun & engaging themes and activities that will include water play, baking and field trips! Elementary Children will meet at the church then depart for a day of fun!
Children are to bring their own lunch.
Please refrain from bringing any foods with peanuts.
* Aloha Summer *
* Fun Under the Sea *
* Lights, Camera, Action *
* Sports & Fitness *
* A Blast from the Past *
* Art Explosion *
Preschool Summer Camp Rate | Five Days: $75 per week
1-Year to 5 Years old (but not attended K)
School Age Summer Camp Rate | Five Days: $85
per week
Just Completed Kindergarten through 5th Grades
Rate inclusive of all activities.
Advanced registration is required and space is limited!
Registration Fee: $50 due at time of registration and is non-refundable.
Scholastic Books
Order Scholastic Books
Using Class code: HFLDR Books for all ages can be ordered so think about your older children and grandchildren, birthdays and seasonal holidays! The Preschool earns points for your order and will purchase age appropriate books for our classes. Books will be delivered to the church. You will be alerted when they arrive.
We currently are able to offer Two, Three and Four Year Old Classes.
Registrations forms are due as soon as possible to assure your child's spot along with the registration fee is $75.00 per child.
Two days (Tuesday & Thursday): $140.00 per month
Three days (Monday, Wednesday, Friday): $160.00 per month
Four days (Monday-Thursday or Tuesday-Friday): $180.00 per month
Five days: $200.00 per month
* A 10% discount is available for each additional child enrolled, per household.

Monday – Fridays
9am to 12pm