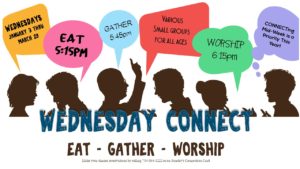 Wednesday CONNECT
On Wednesdays evenings we CONNECT through dinner fellowship + small groups + worship
EAT
5:15p to 6:15p
Before we CONNECT in small groups, spend time connecting with friends in the Christian Fellowship Center (CFC).
Menus vary from week to week and feature foods we have all come to know and love. A salad bar is always available along with chicken nuggets for the children.
Make a standing reservation or make your reservation each Sunday via the Connection Card in Sunday's bulletin, by calling the church office at 704-864-3222 or
email Heather
.
A suggested donation of $6 for adults and $3 for children over 2 is appreciated.
Spring 2018 MENU
1/3 Birthday Party!
Spaghetti & 12 Birthday Cakes
1/10 Homemade Soups & Grilled Cheese
1/17 Chicken Casserole
1/24 Chili; Baked Potato Bar
1/31 Subs, Potato Salad, Chips
2/7 Beef Stew
2/14 Pork Loin
2/21 Meatloaf
2/28 Chicken Tacos
3/7 Country Style Steak
3/14 Hot Dogs
3/21 Chicken Stir Fry
3/28 Hamburgers
GATHER
5:45p to 6:15p

NURSERY | CONNECT
5:30pm to 6:45pm
Infant – 3 year olds
Myers Memorial has one of the most loving nurseries in the area. A safe and fun place to learn, the nursery is more than a space for babysitting. The nursery is open every Wednesday night so that parents and grandparents are able to attend studies and worship.
PK | CONNECT
5:45pm to 6:15pm
3 & 4 year olds
Preschoolers are invited to CONNECT with their friends through fun and interactive experiences that involve all types of activities. Parents can pick up after their program or children will be taken to the Nursery for the CONNECT Worship until 6:45pm.
KIDS | CONNECT
5:45pm to 6:15pm
Elementary ages
Elementary Children will CONNECT with their peers for a time of learning, praying for each other and the world, and having fun. They will gather on the 3rd floor of the Education building. The Elementary Children will come to the Sanctuary for worship at 6:15pm.
WORSHIP
6:15p to 6:45p
Sanctuary
A time to worship during the midst of a busy week. Gather for a homily, communion and music as we CONNECT as the body of Christ.
YOUTH | CONNECT
5:45pm to 6:15pm
6th -12th grades
The Youth will CONNECT in the Youth Lounge each Wednesday for CORE, a student-led time of devotion. Experience the difference Jesus can make in your life as you reconnect with God and friends in the Youth Lounge. This is a great opportunity for youth invite friends to join them and recharge their batteries from a hard week at school. Youth will gather in the Sanctuary at 6:15pm for worship.
Knit for Christ
6 to 7pm, Parlor
CONNECT in person as we connect our stitches in this weekly gathering of the Prayer Shawl Ministry. Don't know how to knit? No worries! This group provides instructions and materials if you're willing to try!
ADULTS | CONNECT
5:45pm to 6:15pm
Young Adults
E-105
Upper Room Study
CFC-106
Prayer Focus Group
Library
Looking for a small group?
Contact
Connie Elzey
, Director of Christian Education, 704-864-3222 ext. 105