Myers' Health Cabinet
Healthy Together: Body, Mind, & Soul
The Myers Health Cabinet has several great opportunities in 2019! Make plans to participate in these events as we seek to live healthy lives ~ Body, Mind & Soul ~ in 2019.
Sign up information will be available via Sunday's Connection Cards and online as time nears for these events.
Monthly Blood Pressure Screenings:
+ First Sundays in the Bridal Room in the Narthex from 10:30-10:50a
Third Wednesdays 5-5:30 in the CFC (September-April).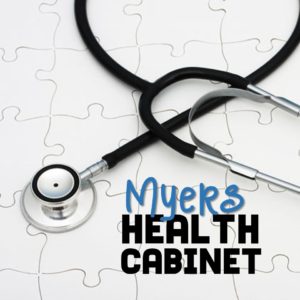 S

ay to him: 'Long life to you! Good health to you and your household! And good health to all that is yours!'
1 Samuel 25:6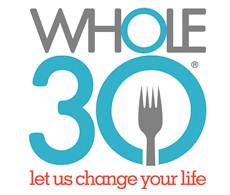 The Whole30 is a meal plan that changes your mindset about eating habits. Think of it as a short-term nutrition reset, designed to change your life in 30 days.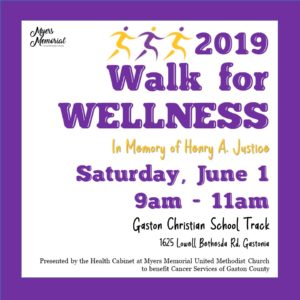 The 2019 Walk for Wellness is in its 4th year of existence to benefit Cancer Services of Gaston County. Sponsored by the Health Cabinet at Myers Memorial UMC together with Henry Justice's granddaughter, Hannah Black, this event seeks to support the fighters, admire the survivors and honor the taken.
This year's walk is expanding into a health & wellness fair! Join in the fun, be active on a Saturday morning while being educated on local health and wellness information. All are welcome to participate, even pets on a leash. Want to share your information? We'd love to have you! We are looking for local organizations that would like to share their knowledge with the community! Do you offer cancer screenings, health supplements, massage, products geared toward supporting cancer fighters/survivors?
Consider being a sponsor and having a booth at this amazing community event.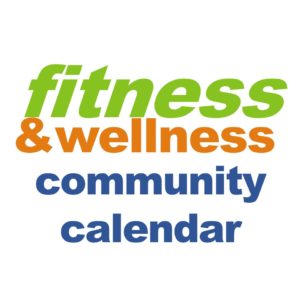 Fitness and Spiritual Wellness Initiative
Brought to you by the Faith Community Nurse program. This is a collaborative effort of multiple faith communities in our area that will present a calendar of fitness and/or wellness events sponsored in 2019. We will be sure to advertise all opportunities through our social media, Health Cabinet bulletin board and emails. Myers plans to participate with our Whole 30 program, Hula Hoop class with Ree Threkheld and the Walk for Justice in June. Stay tuned for more details
Check out this
Calendar of Events
with a variety of opportunities through out our community.
The Faith & Health Ministry
at CaroMont Health publishes a Community Resource Guide on a quarterly basis to address the needs of patients, care providers and organizations in our community who help care for our citizens. Please visit the
CaroMont Community Health Website
to access this valuable resource.