Wednesday CONNECT
On Wednesdays evenings we CONNECT body, mind and soul around the tables and in small groups.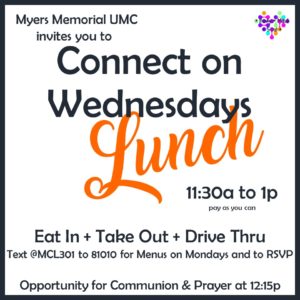 Receive Monday Menu texts
by texting @MCL301
to 81081
then reply to RSVP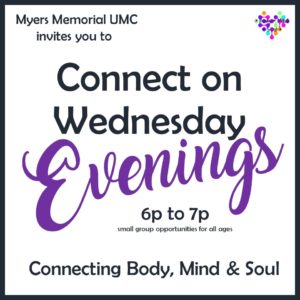 EAT
Drop In + Take Out
11:30a to 1p
Spend time connecting with friends new & old, in the Christian Fellowship Center (CFC) as we gather around the dinner table.
Menus vary from week to week and feature foods we have all come to know and love. A salad bar is always available.
Receive Monday Menu texts by texting @MCL301 to 81081
Each Monday morning we'll text you the menu and you can text back your reservation!
Make a standing reservation or make your reservation each Sunday via the Connection Card in Sunday's bulletin, by calling the church office at 704-864-3222 or
email Heather
.
Pay as you can.
Winter Menu
includes Salad Bar, Drinks & Dessert
January 8: Spaghetti w/Garlic Bread
January 15: Chicken & Dumplings w/green beans
January 22: Chili & Baked Potato Bar
January 29: Meatloaf w/Mashed Potatoes & Peas
February 5: Grilled Cheese & Soup (Tomato, Potato, Broccoli & Cheese)
February 12: Baked Chicken w/Macaroni & Cheese and Broccoli
February 19: Lasagna w/Garlic Bread
February 26: Pot Roast w/Carrots & Potatoes
Download the Wednesday Connect
Lunch Flyer 2020
here and share in your office or neighborhood!
Wednesday Evening Connect
6p to 7p
Nursery | Weekly | Infants – K
Zumba | Narthex
Half Court Basketball | Weekly
Knit for Christ | Weekly
Disciple Bible Study I | 6p | E-105
Men's Upper Room Study | Weekly | Library
Helping Homeless Neighbors | January | Youth Lounge
Helping Homeless Neighbors | January | Youth Lounge
Gather each week for this inter-generational, hands-on ministry opportunity! We'll gather in the Youth Lounge to hear speakers and then put our hands to work in ways that will reach the homeless in our area.
Wednesday Wellness
Half Court Basketball | Weekly
We'll gather for a brief devotion then play a friendly game of halfcourt basketball.
Yoga | New Life Class | Weekly
Zumba | Narthex | Weekly
You'll want to wear supportive shoes for moving and exercising.
Knit for Christ
6 to 7pm, Parlor
CONNECT in person as we connect our stitches in this weekly gathering of the Prayer Shawl Ministry. Don't know how to knit? No worries! This group provides instructions and materials if you're willing to try!
Men's Upper Room Study
6p to 7p, Library
This men's only bible study and fellowship is a great way to reconnect mid week. Gather around the table to delve deeper into the Word each Wednesday.
Looking for a small group?
Contact
Connie Elzey
, Director of Christian Education, 704-864-3222 ext. 105
Nursery: Weekly
Infants through Kindergarteners
Children's Connect:
Younger & Middle Elementary
1/8 & 1/15: Helping Homeless Neighbors
January 22-February 19 | God & Me
This special program is designed to help children become best friends with Jesus and tell their story of "God & Me" together. Children will make a game in each lesson to reinforce the bible lessons and provide opportunities for families to explore God's love together. This program is a part of the religious emblem program in both Girl Scouts & Cub Scouts and is open to all who wish to attend. All participants who complete this program will receive an award as recognition. Scouts in 1st – 3rd grades will receive a special award to be worn on their uniform.
Youth & inXbetween
January: Helping Homeless Neighbors
February-March: Hands & Hearts: Serving Others