Wednesday CONNECT
On Wednesdays evenings we CONNECT body, mind and soul around the tables and in small groups.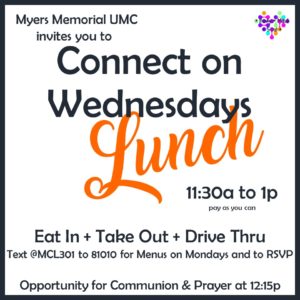 Receive Monday Menu texts
by texting @MCL301
to 81081
then reply to RSVP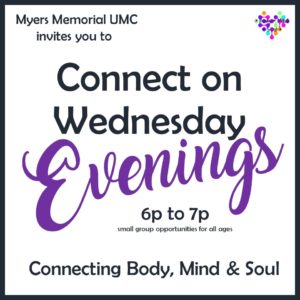 EAT
Drop In + Take Out
11:30a to 1p
Spend time connecting with friends new & old, in the Christian Fellowship Center (CFC) as we gather around the dinner table.
Menus vary from week to week and feature foods we have all come to know and love. A salad bar is always available.
Receive Monday Menu texts by texting @MCL301 to 81081
Each Monday morning we'll text you the menu and you can text back your reservation!
Make a standing reservation or make your reservation each Sunday via the Connection Card in Sunday's bulletin, by calling the church office at 704-864-3222 or
email Heather
.
Pay as you can.
Fall Menu
includes Salad Bar, Drinks & Dessert
9/4 Baked Ziti
9/11 Chicken Casserole
9/18 Philly Cheese Steak Sandwiches
9/25 Meatloaf
10/2 Baked Potato Bar
10/9 Baked Chicken
10/16 Country Style Steak w/ Rice
10/23 Tacos
10/30 Pizza Casserole
11/6 Beef & Broccoli Stir Fry
11/13 Soup & Salads
11/20 Thanksgiving Lunch
Wednesday Evening Connect
6p to 7p
Nursery | Weekly | Infants – K
Yoga
|
Sept. 4 – Oct. 2
| CFC
Zumba
|
Oct. 9– Nov. 13
| CFC
Walking Group | Weekly
Knit for Christ | Weekly
Disciple Bible Study I | 6p | E-105
Men's Upper Room Study | Weekly | Library
Short Term Study: Not a Fan | Sept. 4-Oct. 9
Topical: Personal Finances | Oct. 23-Nov. 13
Worship in the Patch | October 16 | 6p
Thanksgiving Feasts & Worship
November 20
Short Term Study: Not A Fan
Are you a follower of Jesus? Before you answer, you're invited to participate in this short term study exploring the depth at what it takes to be a follower, not a fan, of Jesus Christ. Kyle Idelman's book will guide this study and calls you to be a passionate disciple—not just a fan who admires Jesus from afar. Discover how to love, pray, and give your all for Jesus!
Wednesday Wellness
Walking Group | Weekly
We'll gather for a brief devotion then hit the neighborhood to walk – Meet at the Choir Room to walk and pray through the neighborhood.
Yoga | CFC | 6 weeks | 9/4-10/2
Zumba | CFC | 6 weeks | 10/9-11/13
You'll want to wear supportive shoes for moving and exercising.
Knit for Christ
6 to 7pm, Parlor
CONNECT in person as we connect our stitches in this weekly gathering of the Prayer Shawl Ministry. Don't know how to knit? No worries! This group provides instructions and materials if you're willing to try!
Men's Upper Room Study
6p to 7p, Library
This men's only bible study and fellowship is a great way to reconnect mid week. Gather around the table to delve deeper into the Word each Wednesday.
Looking for a small group?
Contact
Connie Elzey
, Director of Christian Education, 704-864-3222 ext. 105
Nursery: Weekly
Infants through Kindergarteners
Children's Connect:
Younger & Middle Elementary
9/4: Connect with Friends
9/11: Snacking with Dr. E
9/18: Zumba
9/25: In A Pickle: Dealing with Hard Times
10/2: Pumpkin Patch Service
10/9: Using My Gifts & Talents
10/16: Worship in the Patch
10/23: Working Out
10/30: Chill out with Melinda
11/6: Art with Rosie
11/13: Yoga
Youth & inXbetween
9/4: Time Management
9/11: Zumba
9/18: Nutrition
9/25: Cyber Safety
10/2: Let's Get Physical
10/9: Pumpkin Patch Service
10/16: Worship in the Patch
10/23: Chill Out with Melinda
10/30: Art with Rosie
11/6: Yoga
11/13: Yoga & Wellness w/Brinkley