Wednesday CONNECT
On Wednesdays evenings we CONNECT body, mind and soul around the tables and in small groups.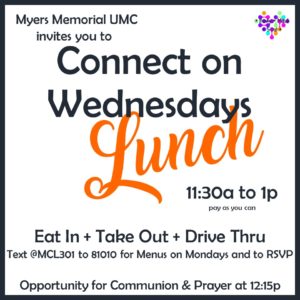 Receive Monday Menu texts
by texting @MCL301
to 81081
then reply to RSVP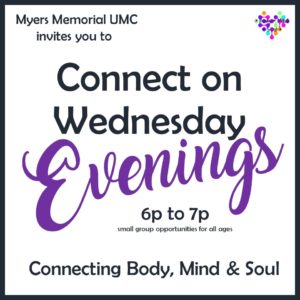 EAT
Drop In + Take Out
11:30a to 1p
Spend time connecting with friends new & old, in the Christian Fellowship Center (CFC) as we gather around the dinner table.
Menus vary from week to week and feature foods we have all come to know and love. A salad bar is always available along with chicken nuggets for the children.
Receive Monday Menu texts by texting @MCL301 to 81081
Each Monday morning we'll text you the menu and you can text back your reservation!
Make a standing reservation or make your reservation each Sunday via the Connection Card in Sunday's bulletin, by calling the church office at 704-864-3222 or
email Heather
.
A suggested donation of $6 for adults and $3 for children over 2 is appreciated.
Favorite Menu Items
Breakfast
Spaghetti
Whole30 Pork Loin
Pan Fajitas
Baked Potato with Whole30 Chili
Roast Beef
Meatloaf
Chicken Spectacular
Beef Tips
Hamburgers
Lasagna
Baked Chicken
Taco Bar
Always Available:
Salad Bar, PBJ & Chicken Nuggets
Wednesday Evening Connect
6p to 7p
Nursery | Weekly | Infants – PreK Children's Connect | Weekly | K-4th gr Youth/InXbetween | Weekly |5th-12th Zumba or Yoga | Select Dates Walking Group | Weekly Knit for Christ | Weekly Disciple Bible Study I | 6p | E-105 Men's Upper Room Study | 6p to 7p | Asbury Short Term Study: Not a Fan | Sept. 4-Oct. 9 Topical: Personal Finances | Oct. 23-Nov. 13 Worship in the Patch | October 16 | 6p Thanksgiving Feasts & Worship | November 20
Knit for Christ
6 to 7pm, Parlor
CONNECT in person as we connect our stitches in this weekly gathering of the Prayer Shawl Ministry. Don't know how to knit? No worries! This group provides instructions and materials if you're willing to try!
Looking for a small group?
Contact
Connie Elzey
, Director of Christian Education, 704-864-3222 ext. 105