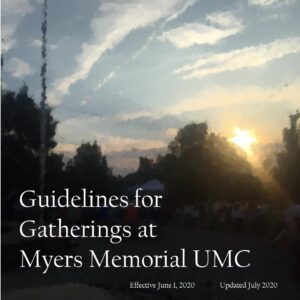 The safety of all our members and guests is our overriding priority. As the coronavirus (COVID-19) pandemic continues we are monitoring the situation closely and following the guidance from the Center for Disease Control and Prevention, local health authorities, and the directions given to us by the Bishop of the Western North Carolina Annual Conference.
In order to prevent the spread of the coronavirus and reduce the potential risk of exposure at Myers Memorial UMC (MMUMC), we are asking that all participants agree to the following before coming to our campus for an outdoor small group function.
Would you like to use our building?
The congregation of Myers Memorial has been entrusted with the care of property located at 301 S. New Hope Road in Gastonia, NC. It is because of this great responsibility we have developed these guidelines for using the building.
The Trustees Committee of Myers Memorial UMC is tasked with ensuring policies and procedures are in place and the building is maintained.
Weddings
Myers Memorial UMC schedules weddings for members and their families. "Families" include: children, grandchildren, nieces, and nephews of living church members.
Groups Permitted to Use Facilities
Myers Memorial UMC recognizes three distinct groups that use the Facilities. There is a need to categorize the groups due to assessing fees and establishing specific responsibilities. Absent from this list of designated users is any non-church group that does not have a church member sponsor. Due to the heavy use of the facilities of Myers Memorial UMC, a non-church group that does not have a church member sponsor is unable to use the facilities.
Church Group
A church member or a church organization that is on the church roll or functions as a group in the ministry of Myers Memorial UMC. Examples: Sunday School class, Youth group, Weekday Preschool, or any church committee.
Outside Group
This designation is a non-profit group in which a church member takes full responsibility for facility use, by adherence to Policies and Payment for any fee. In this designation, a church member is a member of the Outside Group.
Church Sponsored Group
This designation is a group that supports and promotes the outreach of Myers Memorial UMC. Examples of a Church Sponsored Group are: Scouts, Al-anon, NA, United Methodist District & Conference Events.