Click Here to save your space at Worship this Wednesday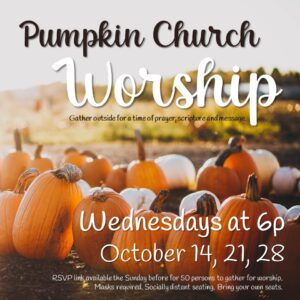 Join us outside for a time of prayer, scripture and message. RSVPs are required so we may follow all safety protocols.
Socially distant outdoor seating, please bring your own seat.
Masks are required.
In the case of inclimate weather, the service will be canceled.
Children are welcome, childcare will not be provided.
Park at the pumpkin patch.
Worship guides will greet you and assist with seating.
We hope you will join us for this time of worship!
Please seriously consider your health before you participate
Please answer the following questions affirming that:
+ During the last 14 days, the individual has not had and is not presently experiencing any of the following symptoms: fever, cough, shortness of breath or difficulty breathing, sore throat, chills, new loss of taste or smell, new onset of head or muscle ache, nausea, diarrhea or vomiting.
+ In the past 14 days, the individual has not been in close proximity to someone experiencing the above symptoms or has not been around someone who is under investigation for or tested positive for COVID-19.
You are invited to gather outside (near the Scout Hut) on Wednesdays, at 6p through out October for a short service of music, scripture and sermon. Currently, we are able to gather 50 persons (including worship leaders and worship guides) and look forward to this time together.
Dress for the outdoor weather at sunset and if it is raining, we will have to cancel the service for that night. Wear your masks and bring something to sit upon (camp chair, blanket, stool, whatever is comfortable for you!). It is suggested that you park in the large lot at the Pumpkin Patch as there will be only one access point to the worship area.
Thank you to the Worship task force that has been working to find the perfect location on our campus where the sound will be good, the sun will be out of our eyes and most enjoyable for all to participate. And thank you for working tirelessly to ensure we can gather together in the safest of ways. Given the location of where we will be set up, we do not think it will be feasible to sit in your car and hear the service.
We are asking that you please use the sign up link that will be sent out via email each Sunday and Tuesday prior to Wednesday's service. This will allow the worship guides to prepare for your arrival. They will work to seat families together and adjust spacing accordingly. You can sign up until just before the service.
Sign ups will be done one week at a time, just a few days before the event, so that you will be able to appropriately assess your health in response to the Covid questions. You must do the online sign ups because only you can answer these questions for yourself. If you do need assistance with online sign ups, please call the office and someone will assist you. Voicemails will be returned and we will walk through the questions with you. And because of the fluidity of life these days, we know that things change. if you have signed up online and cannot attend, please cancel your spot (information should be sent to you via email from Sign Up dot com when you make your reservation).
Do you have Questions about all this?
Please reach out to
and he or someone from the Worship Team will be able to assist. Church Office: 704-864-3222