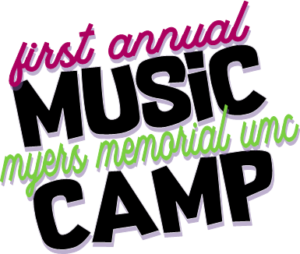 Myers Music Camp
July 30-August 3
9a to 2p
Final Performance
August 3 at 6p
The week will be packed with fun activities, lots of singing & acting!
Each day will include rehearsals in the sanctuary, crafts, bible explorations and weather permitting, outdoor time! Each cast member will be given individual vocal instruction as they prepare for Friday's performance.
Campers will need to pack a bag lunch, snacks will be provided. A meal will be provided for campers on Friday before the performance.
The Music Ministry of Myers Memorial UMC is pleased to announce the First Annual Myers Children's Music Camp! The 2018 camp take places July 30- August 3 at Myers Memorial UMC. The week will be Monday through Thursday from 9am to 2pm and on Friday 9am to 6pm as we prepare for the conclusion of camp with a performance of our show on 6pm in the Sanctuary. A chance to meet the cast and a reception will follow in the Christian Fellowship Center.
Music Camp is open for rising 1-6 graders no matter their musical experience. We will be learning an entire musical in one week so it'll be a fast paced week and campers will be expected to be focused and engaged. Music will be provided in early summer and auditions will be held the first day to cast the show.
Tuition: $100
Scholarships available
Registration Period
February 1 through July 1
Please return the completed registration form to Tony Sane, Myers Memorial UMC 301 S. New Hope Rd Gastonia, NC 28054
Contact Mr. Tony Sane,
Director of Music
In the middle of Bible class at Sandstone Christian School, things are suddenly interrupted by a fire alarm. Is it just another drill? Is it a real fire? Once everyone is outside, waiting for the "all clear" signal telling them it's ok to go back to class, the teacher, Mr. Southwell, takes advantage of the time to teach his kids some important lessons from the Bible. Your kids will love the story and songs that make up this warm, funny, message-driven musical.