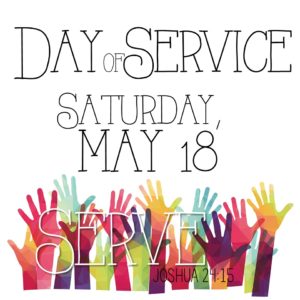 We hope you'll join us in loving and serving our neighbors as we seek to serve God in all ways each day.
There are projects for all age levels and abilities. Opportunities to serve include everything from serving breakfast & dinner, organizing & sorting, stacking & packing, taking & giving.
Project Plans:
Mission Response Center Depart at 9am to serve at our Conference Mission Response Center in Terrell, NC. Jobs include sorting and packing humanitarian items. Pack a lunch, snacks and water bottles. Must be 12 or older. Alice Sweazy is driving the bus and will depart at 9am.
Crisis Assistance Ministry All hands are needed to help stock the shelves after the Postal Service's Stamp Out Hunger Food Drive! There is a mountain of items to unbag, sort and shelve! Drop In: 9a to 12p at 805 Airline Ave. All ages and abilities are welcome, children under 12 will need adult supervision and guidance.
Snack Pack Assembly Meet in the CFC at 1pm to assemble protein rich snack packs for the hungry neighbors that stop by our church each week. The timing is perfect as we just handed out our last pack! This is perfect for preschoolers and their favorite loved one! Tanya Martin will start the assembly line!
Mission Possible Small household repair projects. Contact Mike Rhodes for specifics
The Cathy Mabry Cloninger Center – A Battered Women's Shelter Prepare & Deliver Dinner to feed 25 shelter residents. On the menu: Taco Bar! Contact Melinda Brown
Trinity UMC Community Breakfast 8:30a to 10:30a Prepare, serve and eat with neighbors at Trinity's monthly Community Breakfast. (space limited)