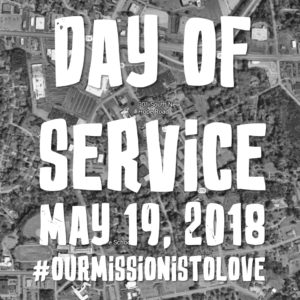 Day of Service 2018
Saturday May 19 will be a day to change the world in our community! It is the hope of the Outreach Committee that we can gather throughout the day and participate in various acts of kindness and generosity in the name of Jesus. Times will be announced closer to time and all resources for the projects will be provided! We have what it takes to make these projects happen, now we need to people power ~ You!!
Project Plans:
Community Breakfast at Trinity UMC

(8a to 9:45 and 9:45 to 10:30a 1513 Florida Street, Gastonia)
Two teams of 5 each will assist in cooking and clean up at Trinity UMC. Everyone will eat and fellowship with the community! Limited Space!
End of Grade Encouragement (2p at Sherwood Elementary, 1744 Dixon Rd)
Our local schools will be taking end of grade tests beginning May 23. We will decorate the sidewalks at Sherwood Elementary with encouraging messages as we cheer them on to do their best on these tests!
Secret Doughnut Donations (8a to 10a, Dunkin' Doughnuts, 350 N. New Hope Rd at Eastridge Mall )
Doughnuts are a great treat no matter the time of day! Your task, should you choose to accept it, is to secretly prepay for doughnut orders and then watch the fun as hopefully folks pay it forward.
Water Sharing at Planet Fitness Shopping Center (time to be determined)
We celebrate those taking the time to exercise! We will share bottles of water with them as they come and go from the gym and with others who may be coming out for an afternoon of shopping.
Suds of Hope (3p, Franklin Laundry, 1310 E. Franklin Blvd)
A day at the laundromat isn't the most fun but we can make it much less of a burden by supplying the suds!
Breath of Fresh Air (10am Advanced Auto Parts, 215 S. New Hope Rd, 1pm Auto Bell, 333 New Hope Rd., Eastridge Mall)
Our hope is that we can share a breath of fresh air with someone as they repair or clean their cars by sharing a kind word and auto fresheners with them. Other places as time allows.